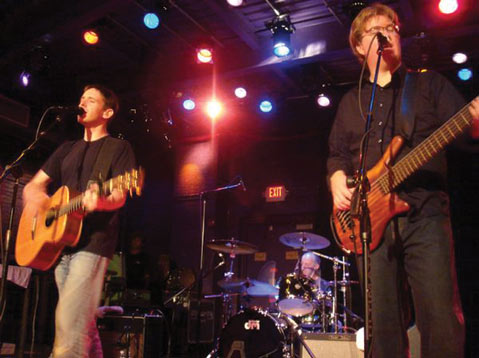 NEW YEAR, NEW YOU: Call me an optimist, but I think 2009 might just be boasting one of the best musical starts of the decade-at least for S.B. Take, for example, all the crazy goings-on that we have to look forward to in the next two months alone. And they call this rock's "slow season."
Proving I'm not quite sure what about our country's prestigious National Academy of Recording Arts and Sciences, we've got hometown gal Katy Perry (katyperry.com) to cheer for at next month's Grammy Awards (grammy.com). If history-making moments are what you're after, Santa Barbara's own luminaries Toad the Wet Sprocket (toadthewetsprocket.com) will be kicking off a short-but-sweet return to the road this Friday, January 9, at the Granada Theatre (1216 State St.). For those of you hoping to get into the biz-or simply looking for a good show-the 6th Annual Durango Songwriter's Expo (durangosong.com) will be pulling into the Santa Ynez Valley this February 26-28. The weekend-long event is boasting plenty of info and a star-studded show at SOhO (1221 State St.) to kick things off, featuring everyone from Jim Lauderdale and Jill Sobule to Chuck Cannon and Crosby Loggins.
And that quite literally is just the beginning. Throughout this first quarter we're also being bombarded by the crme de la crme of indie artists. In February alone, Santa Barbara proper will play host to The Shins' guitarist Eric Johnson's side project, Fruits Bats (fruitbatsmusic.com), and North Carolina's experimental pop collective Annuals (annualsmusic.com) at Muddy Waters Cafe (508 E. Haley St.), as well as ambient Spanish-French folkie Juana Molina (juanamolina.com) and The New Pornographers' frontman A.C. Newman (acnewman.net) going solo at SOhO. Also just announced, art punkers (and Best of '08 list toppers) No Age (myspace.com/nonoage) head to Velvet Jones (423 State St.) on February 28. Visit clubmercy.com for details and dates for each of these shows.
Turning our attention up north a bit, we've got even more amazing stuff ahead-including the insane February 14 pairing of punk rock pioneer Patti Smith (pattismith.net) and piano mastermind Philip Glass (philipglass.com) at UCSB's Campbell Hall. And just in case that wasn't enough, the two are combining forces to create some sort of whacked-out musical tribute to beat poet Allen Ginsberg. Okay, so it's not exactly the first thing I'd think of when making V-Day plans, but really, this is not one to be missed. Call 893-3535 or visit artsandlectures.sa.ucsb.edu for ticket info.
Also bordering on UCSB-related news, it seems that the I.V. music scene is finally on the up and up once again. Following the closure of the Living Room and The Hard to Find, many believed that I.V. would never be the hotbed of up-and-coming music action it once was. But its current inhabitants are either in denial or out to prove a serious point, because January alone is jam-packed with shows. While staples like the Biko Co-op (6612 Sueno Rd.) are continuing to book killer local and traveling acts (oso and the Colter Frazier/Matt Crane Duo on January 10; Math the Band and iji on January 23), newcomers like the Artshole (6621 Trigo Rd.) and The Furnace (6708 Trigo Rd.) are turning up the heat. My pick of the month: low-fi lovers Hello Shark, Shay Roselip, Your Yellow Dress, and Focusbird converge on The Furnace this Tuesday, January 13, at 8 p.m. For all the latest on I.V.'s live music scene, head on over to myspace.com/sbdiy.
And if all those shows don't whet you're appetite, just think-that list doesn't even include the as-yet-to-be-released 2009 Bowl lineup. So Happy New Year, music fans. I'm now officially making a resolution to stay on top of as much of this mayhem as I can.