Bottles & Barrels
What to Drink on Inauguration Day
Suggestions for Celebrating with Incoming President Barack Obama
After Barack Obama takes the oath of office next Tuesday, January 20, his first duty as president will be to attend the inaugural luncheon, a tradition that's been part of Inauguration Day for more than a century. This year, Obama and crew will chow down on a menu inspired by Abraham Lincoln, with a few modern twists: seafood stew, paired with a Duckhorn Vineyards 2007 Sauvignon Blanc; a brace of pheasant and duck, served with sour cherry chutney, molasses sweet potatoes, and a Goldeneye 2005 Pinot Noir; and, for dessert, an apple cinnamon sponge cake and sweet cream glace, alongside the Korbel Natural "Special Inaugural Cuvee."
Assuming you're not one of the lucky ones invited to eat like Lincoln with Obama, you'll be left to fend for yourself during the celebration. So what drink should you be using to toast to hope, change, and a new American future? Here are some ideas.
Expression 44° Pinot Noir: When the recently founded Expression Wines outfit released its Expression 44°-a pinot noir made from grapes grown at the 44th parallel in Oregon's Willamette Valley-the crew had no clue it would cause such a stir. "We were pleasantly surprised when people excitedly started calling us to buy it, saying this was the perfect wine to serve at their inauguration party," said Dick Wollack, who owns the pinot-focused winery along with Bill Hill and will soon be releasing an Expression 34° from the Mt. Carmel and Rancho Salsipuedes vineyards in Santa Barbara County's Sta. Rita Hills AVA. Customers connected the label with Obama being the 44th president, and the winery responded by offering the usually $48 bottle for $44, and a case for $440. Getting a 90-point score from super-critic Robert Parker didn't hurt either. See expressionwine.com.
Korbel: Starting with Ronald Reagan's inauguration in 1985, Sonoma County's 123-year-old Korbel has been the official bubbly-maker for Inauguration Day for the past two-plus decades and four presidents, and was also the cork-popper of choice for John F. Kennedy. Although the inaugural bash-goers get the wine in specially made magnums adorned with the official Inauguration Day seal, the rest of us can pick up a bottle at the neighborhood grocery store for about $14. "It's a Russian River Valley vintage," said Korbel's owner Gary Heck last week, "and it's a wonderful champagne."
Roederer Estate Brut Rose NV: The Winehound's Bob Wesley does, however, highly recommend this "bone dry" pink sparkler, which is owned by a French champagne house but is produced in California's Anderson Valley. "It represents the international cooperation that we all have to work toward right now," said Wesley, who finds the pink a "more celebratory and festive color" and said the taste "has a slight biscuity, creamy characteristic," along with "strawberry and cherry noses." He sells it for $29.99. See thewinehound.com.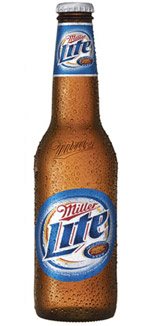 Miller Lite: Although its sister Miller High Life may be the "champagne of beers," D.C. insiders contacted for this story explained, "We don't have any firsthand knowledge on the subject, but seeing that Obama's only a beer-with-the-game kind of drinker, we think he'd probably go with the greatest union beer of all: Miller Lite."
Senator Keg Lager: A Kenyan beer that was launched in November 2004-the same month that our new president became a U.S. senator-this cheap lager is all the rave in Nairobi and beyond, where drinkers have taken to calling it simply "Obama," since his father was Kenyan. Unfortunately, the beer, which sells for 30 cents a glass in Kenya, appears to be impossible to find in Santa Barbara, but you might be able to hunt it down on the Internet. (If you do, save me a bottle.)