News
Surfers Suffer as Epic Flat Spell Nears an End
Winter of Discontent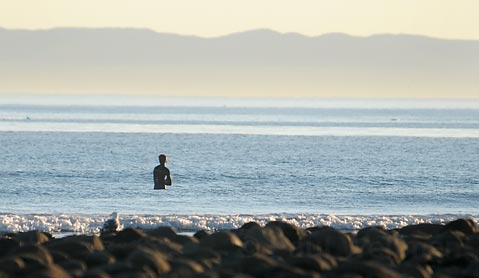 Ask any South Coast surfer how the first half of the 2008-09 surf season is working out and you will likely find yourself on the receiving end of a frustrated rant. Two weeks into the typically roller-rich month of January, Santa Barbara's trademark cobblestone point breaks and rock reef corners are nowhere to be seen. In their place: suspiciously summertime-like flatness. And while forecasters are predicting a brief blast of west-angled relief to slam our coast this weekend, the long-term outlook does not look much better than what the area has currently been experiencing, thanks the meteorological phenomenon known as La Ni±a.
According to Nathan Cool, a meteorologist and chief surf forecaster at wetsand.com, the culprit behind the last few months of crummy Santa Barbara surf conditions has been a massive, stubborn high-pressure system in the North Pacific centered over Northern California. The high pressure has caused the jet stream to run at unusually high longitudes and, consequently, Gulf of Alaska-formed winter storms-which frequently bring robust surf weather-have stayed north, save for a few squeaks of weather in late November and around Christmas. "Basically, the high pressure has just been sitting there and blocking everything. : The surf never even has a chance to make it our way," Cool explained.
Specifically, this "omega" high pressure system -named for its resemblance to the Greek letter -has worked as a bouncer of sorts for approachÂ-ing lows spinning out of Russia's Kamchatka Peninsula and pushing the fronts to our north and then dropping them toward the east. (It should be noted, however, that waves are still created by these storms but the angle of the swell is way too north for them to wrap into the south-facing coastline of Santa Barbara County.)
Not only are these systems failing to generate waves, but they also are steering much needed rainmakers toward the Pacific Northwest and away from Southern California's fire-scorched, thirsty landscapes. The end result, in the words of National Weather Service meteorologist Jamie Meier, is "good beach weather" but dry conditions for most coastal communities south of Eureka. Typically, a high-pressure system eventually breaks down and moves east, allowing the jet stream to return to a normal, lower-longitude trajectory and deliver waves and winter weather to Santa Barbara. However, we may not be so lucky this year.
While the term "El Ni±o" is likely familiar to weather watchers as a deliverer of waves and wet and wild weather, its sibling, La Ni±a-referring to when equatorial waters are in a cooling trend, is a less widely understood character. In Meier's estimate, current temperature readings from the equator indicate that the weather is indeed currently being influenced by a "mild" La Ni±a pattern. Cool takes it a step further, pointing specifically to the sudden drop in equator temperatures during the past 6 to 8 weeks that he claims indicate a shift from a "so-so La Ni±a" event to an even stronger one. Moreover, stubborn high pressures in the North Pacific are the classic calling card of the little girl.
That being said, Cool and many other forecasters predict that the season's first true surf-generating storm will make itself felt this weekend. Big, bad, and beelining straight from Japan, waves generated by this storm should have a clear shot at Santa Barbara, thanks to an anticipated eastern shift of the high pressure-that recently sent coastal temperatures soaring-and a corresponding dip in the jet stream.
However, once the waves fade, La Ni±a factor could well return, and with it high pressure and oceanic flatness. But before you go and sell your surfboard and take up rollerblading, you have to remember this is weather we are talking about and change is probably the only thing you should really bet on. After all, as Cool put it, "Just because we are in a La Ni±a doesn't mean the high pressure will persist-it just means it's more likely to."