Film & TV
SBIFF '09: Youth Cinemedia Reviewed
Underprivileged Kids Tackle Tough Social Issues Through the Lens of a Camera
When filmmaker Osiris Casta±eda was given a video camera by friend and Rage Against the Machine frontman Zack de la Rocha almost 10 years ago, he aspired to use the gift to sow the seeds of a socially conscious, young, Latino film movement where there wasn't one. "We [Latinos] were underrepresented a little bit in that aspect of creating independent media," explained Casta±eda, who sought to inspire a new generation of Latino filmmakers to use media responsibly "as a tool for social change."
The opportunity to inspire such a movement finally presented itself in 2004, when Casta±eda became director of the Youth CineMedia Project, an ongoing film workshop and a central portion of the Santa Barbara Latino CineMedia Film Festival that he cofounded and has since been incorporated into the Santa Barbara International Film Festival as the Latino Cinemedia sidebar. At 10 a.m. on Saturday, January 24, Osiris Casta±eda's dream of inspiring a socially conscious group of young and underprivileged filmmakers was alive and well, as a packed house gathered in Victoria Hall for the screening of the 6th annual Youth CineMedia Project. (Some of these films have premiered on this Web site under the occasional column called "Street Focus"; see them here.)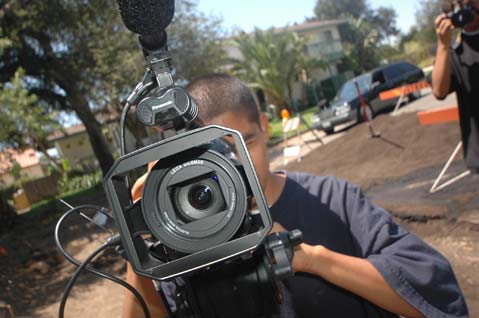 The free screening of the 2009 Youth CineMedia Project was the culmination of a year's worth of work done by a group of youths whose ages range from their early teens to their twenties. This year's films, which ran anywhere from one to 25 minutes, were a collective effort. "We're a team," said Casta±eda, "so everybody pitches in." Under his guidance, this team of aspiring filmmakers worked hard to conceptualize, produce, film, and edit 18 projects that addressed issues such as the environment, AIDS in the Latino community, gentrification, the stigma of tattoos, drug addiction, and gang violence just to name a few.
The screening opened with a series of shorts devoted to increasing awareness of environmental issues, with native plant restoration as well as creek and ocean pollution chief among the issues addressed. Through a partnership with the City of Santa Barbara Creeks Division, the members of Youth CineMedia learned a great deal about the trash that collects in our city's creeks and on our beaches, and as a result sought to encourage the community to do little things to keep our environment free of harmful litter. Outside of learning about the environment and informing the community, the kids of Youth CineMedia had the added incentive of getting paid for their work. "Students would get paid to make these projects at a rate of $10 an hour," explained Casta±eda.
The two-minute short Cruisin' Creeks was a particularly well-made piece done in the motif of an early '90's hip-hop video, sans actual rapping. The film followed three boys down the aqueduct adjacent to the 101 freeway, as they documented the large amount of trash that has accumulated there and listed the negative ramifications of such pollution. (See the video here.)
Following the environmental films were a series of longer documentaries that tackled profound social and personal issues. Finding Nemo: The Life and Death of a Cholo was perhaps one of the documentaries that touched upon precisely the sort of social awareness and dialogue that Youth CineMedia aims to encourage. The hard-hitting Finding Nemo is the story of Lorenzo "Nemo" Valentin Carachure, whose decision to run with a gang eventually resulted in his death during a brawl in 2007. Despite Nemo's status as a gang member, the film does not approach his life in a black-and-white manner, but rather attempts to humanize him by operating in the gray areas of who Carachure was: a committed son, brother, nephew, and cousin who worked tirelessly to send money back to Mexico, and an affable boy who always had a smile on his face and exhibited the curiosity of a little child.
Produced by Nemo's cousin Maximina, the film's haunting interviews with friends and relatives – including those who accompanied him on the fateful day of his death – reveal the realities and nuances of gang life, the sense of brotherhood that comes with belonging to a gang, the arbitrary hatred that members of different gangs feel for each other despite their similarities, the violence such hatred compels them to commit, the family members who are left behind to pick up the pieces and the callous justice system that sweeps such tragedies under the rug. In a particularly pointed interview, Carachure's uncle and aunt, with whom he lived, recount how police threatened to arrest them if they continued to try and help Carachure, who lay choking on his own blood; the ambulance arrived an astounding 30 minutes later.
For the students learning their craft under the tutelage of Casta±eda, gang violence is a part of the environment in which they grow up. Although Casta±eda acknowledges his program is making a difference, he is not so naive as to claim miracles. "It's not a magic bullet," he said. "It's not like you join the program and you stop doing those things. Irregardless, you are still a human being, You're still a kid." For Casta±eda, the true measure of success is how these children are nurtured, educated, and provided with the perspective to make their own decisions. "It's not a measure of does someone stop banging or having these loose affiliations," he explained. "You can't help where you grow up. It's a measure of how we look after our children."
Six years after the founding of the Youth CineMedia project, the student films showcased at this year's screening provided great hope that Osiris Casta±eda's vision has the potential to be realized. The hope he carries is that, despite the confines of their environment and the social constructs that bind them, his students' imaginations and creativity will provide the impetus for social change.
"The hope is that when you give them those tools they can be more successful in society," he explained. "Our most valuable resource is them. Our most valuable resource is the creativity and imagination of our children."