Books
Poetry Matters
California Poets in the Schools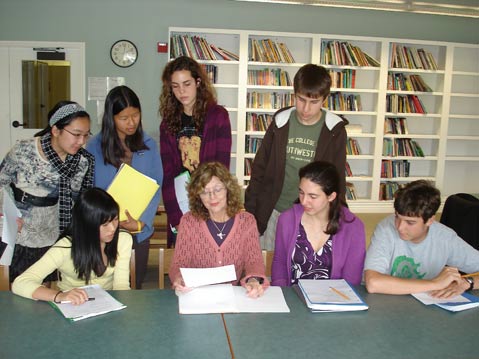 In 1984 I taught what I thought would be just a couple of classes with the California Poets in the Schools (CPITS) program as a favor to another poet. That I am still having a great time doing this, forever awed by children's natural gift of language, might have something to do with the comment a fourth grader once wrote on an evaluation: "Poetry is better than Disneyland."
Children love letting words take them on a wild ride into their imagination. They experience exuberance when they hear great poetry from all ages and cultures. They like to recite lines that please them, share images and thoughts they identify with, and use the language of poetry to communicate their unique, inner life.
Founded in 1964, CPITS estimates it has placed more than 150 poets in 300 schools across the state to serve more than a half-million students, grades K-12. Current poet-teachers in Santa Barbara include area-coordinator Christine Kravetz, Lois Klein, and Chryss Yost. Each year, CPITS publishes an anthology of some of the best student poems written across the state as well as poems by poet-teachers. The 2008 anthology, On the Other Side of Tomorrow edited by Lucia Lemieux of Thousand Oaks, features writing from four Santa Barbara student poets.
In his introduction to the anthology, California Poet Laureate Al Young quotes these lines from tenth grader Ellen Feldman's poem "My Breath": "Behind the doors of tomorrow a brand new breath is forever taking shape and taking heart." Feldman attends the Granada Music and Arts Conservatory, a special Saturday program for students ages 6-18. Inspired by Philip Levine's poem "Call It Music" in his recent collection Breath, Feldman writes,
My breath tastes as deep as a poem written at dawn,
that breath alive longer than any of us;
it has knownthe time when the world was born and it has seen
the earliest of organisms open their eyes and inhale :
My breath, in you is the divine presence that connects us :
Sio Tepper, also a tenth grade student at the Conservatory, was inspired by Chinese poet Wang Chi (584-644 A.D.) to write:
For you, I would jump to the top of a mountain
And bellow to the sun
To make it tickle you with its light.
For you, I would smile,
So you could laugh at my crooked teeth.
For you, I will live.
Mary Kogevinas, a Montecito Union fifth grader, writes in her poem "Creativity,"
Creativity and Imagination are inseparable.
Her greatest ideas come to her
on sunny morningsafter
a night of dreams.
And Elliott Boss, a Cold Spring fourth grader, writes in his poem "Daydream,"
My dream,
a dream that people live forever,
that they are immortal in all ways,
though not impossible for them to die :
They are friendly like bird to bird,
They are peaceful like tree to tree :
A poem of mine titled "Every Time I Write A Poem I Fall in Love With It," inspired by a quote from a fourth grader some years ago, ends with the lines: "Child, the poem you birthed / folded in your pocket is what we live for, what saves us, drives us mad, these words we may one day die for."
Information about the CPITS anthologies and program can be found on cpits.org.
UPCOMING POETRY EVENTS: The annual Remembering William Stafford Reading on Saturday, January 31 from 2-3 p.m., features Lois Klein and Phil Taggart. The reading is held at the First Crossing Day-Use Area, Paradise Road, Los Padres National Forest. Bring your favorite Stafford poem to read. For further information, contact Paul Willis: willis@westmont.edu. On Saturday, February 7, from 7-9 p.m. at the Contemporary Arts Forum, the Santa Barbara Poetry Series will feature Joe Stroud (Santa Cruz), Paul Ferricano (San Francisco), and area poet Peg Quinn.