Film & TV
SBIFF '09: Glowing Praise
Lightbulb Is a Radiant Testament to the American Spirit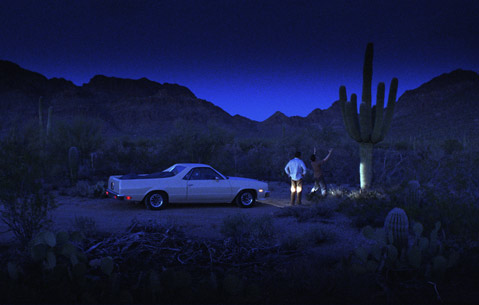 It is often said that nothing is quite as outrageous as life itself. This is something that director Jeff Balsmeyer is the first to attest to. Having worked as a storyboard artist on films such as Do the Right Thing, Last of the Mohicans, and Malcolm X, in 2003 Balsmeyer wrote and directed his first feature film, Danny Deckchair. In bringing to life the story of guy that discovered the true meaning of "flight" by tying balloons to his deckchair and drifting into a new life, Balsmeyer found a sense of poetry in eccentricity. By directing Lightbulb, the closing film in this year's Film Festival, Balsmeyer is again beautifully embracing the idiosyncratic. In telling the tale of two friends – an inventor and a fast-talking salesman, whose unwavering passion is only matched by their dedication – the story is a glowing testament to hope and persistence. And, in being based upon a true story, Lightbulb celebrates the American spirit that might just pull through the current economic predicament.
Brett Leigh Dicks recently spoke with director Jeff Balsmeyer, who was about to depart from his adopted Australia for the film's world premiere in Santa Barbara. (See another interview with screenwriter Mike Cram.)
The film is set in Tucson and encapsulates a beautiful sense of the city's eccentricity. How did Tucson come to figure in the story? The film is a true story based on [writer and producer Mike Cram's] life and the story actually happened in Seattle, but he took a lot of departures. Basing it in Tucson was a really smart decision. It's a big place that's far away from any other big place, which makes it its own little world. One thing I discovered when I got there is that there is a fierce individualism to Tucson. We came across characters like I have never seen in my life. People there can operate in their own little worlds without any interference whatsoever. And, for a story about a novelty inventor, that was kind of perfect.
How did Lightbulb first cross your path? Mike saw the first film I made, Danny Deckchair. Mike is the guy in the film. He has a very straightforward approach to things. He is a novelty inventor and he is a film nut. So when he decided to make a film, the first thing he did was go to a bookstore and bought every book he could about how to make independent films. He read them all and when he decided upon the one he liked the best he called the author, Greg Goodell, and asked him to be the executive producer of his film. And, for some reason, Greg Goodell agreed to do it! And then Mike watched every independent film that was made in the last couple of years. He liked the style and everyman quality of Danny Deckchair so he contacted me.
What was it about the story that drew you to the film? It was probably being an expat who has been living away for fifteen years [in Sydney, Australia]. But, by the same token, I am probably the most bread and butter, white-slice American alive. I guess as an expat, although I have never identified with the States politically, until recently, I have always identified with it culturally. My awakening came when I saw Jonathan Demme's Melvin and Howard. It shows a middle-class America that wasn't cliched and wasn't white trash. It was this weird little culture unto itself where people have the audacity to dream dreams and try to make those dreams happen. It was that kind of portrait of America that drew me to this script.
Given your relationship and familiarity with Mike, was that a help or hindrance when it came time to cast the character of the inventor? One of the first things Mike told me about the project – and the one thing that made me realize we were on the same wavelength – was that he wanted Dallas Roberts to play the lead. All either of us had seen of Dallas was the small role he played in Walk the Line. But, for me, that one scene was the most memorable scene in the movie. What stuck with me about Dallas after seeing that movie was that he is kind of like a modern day Jimmy Stewart – but without the awe-shucks-golly quality, and a little more edge.
In the two feature films you have directed to date, you have embraced two beautifully eccentric characters. What is the intrigue there? I'm really interested in people who are extremely creative, but who don't think of themselves as artists. What Danny Deckchair did was probably the greatest leap of imagination possible and there was a poetry to what he did. But it wasn't couched in any kind of aesthetics – just a real life wonderment. And I think the same thing applies to a novelty inventor. They are the retail poets. The things they come up with are usually so outlandish that they can only exist as a kind of poetry.
And there is a poetry in the success too : When I first got the script I saw it was about a talking beer opener. But I lost sight that it was a true story and the first thing I told Mike was that we are going to have to come up with a different invention because this is thing is just ridiculous. And he said "As a matter of fact, it is the highest selling novelty item in history." And it is! They have sold a mind-boggling number for these things in 30 different countries around the world and they have hundreds of different varieties. Every major sports team has their own opener. It just shows that an absolutely ridiculous idea can catch on.