Visual Arts
Public Garden Opens with Aris Demetrios Sculptures
Jardin de las Granadas Celebrates New Space, New Art
Renowned sculptor Aris Demetrios has been selected as the first artist to exhibit in Santa Barbara's newest public garden, Jardin de las Granadas, at 21 East Anapamu Street. Demetrios's work is the first installment in a rotating outdoor sculpture exhibition that will showcase a new sculptor every four months. To commemorate the occasion and the completion of Jardin de las Granadas, the City of Santa Barbara is hosting an inauguration ceremony next Thursday, February 5, at which Demetrios will be present.
Frank Goss, the man behind S.B.'s Sullivan Goss, An American Gallery and the one who commissioned the project, couldn't be more excited about the decision to display Demetrios's works. "I wanted the first installation to be cheerful and full of unconstrained joy" Goss said. "His pieces are so uplifting and sweet that I thought they would be a perfect fit for the opening."
As one of the West Coast's premier artists, Demetrios is no stranger to Santa Barbara County; he lives and works out of Montecito and is well known for his abstract designs in bronze and powder-coated steel. Around town, he is best recognized as the sculptor of "Mentors," Santa Barbara City College's 18-foot bronze fountain, which won the Santa Barbara Beautiful Award in 2002. When asked how the public was likely to receive Demetrios's most recent installation, Goss explained, "These pieces are so accessible and inspiring, with their vibrant colors and compelling lines, that they help those people who may not like abstract sculpture to appreciate this kind of conceptual art."
Demetrios seemed equally thrilled to display his sculptures in the new garden, and feels the setting will enhance the viewer's experience. "The layout of the garden gives [the sculptures] the room to breathe that you might not find in a museum setting. It is a gentle space that invites one in and encourages curiosity."
The new public garden is indeed a welcome surprise in an unsuspected location. Nestled in between Paradise Found and Coffee Cat on Anapamu Street, directly across from Santa Barbara Public Library, the Jardin de las Granadas is a splash of greenery and color that greets anyone exiting the Granada garage or turning the corner from State Street. Demetrios agrees that the location and layout of the garden is ideal for viewing the sculptures. "The space itself creates a grammar in which the pieces survive."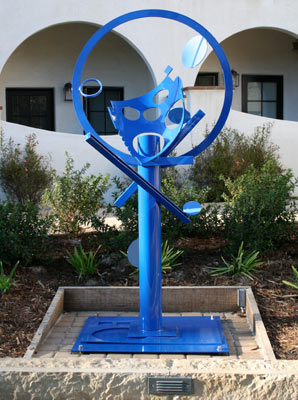 Implementing the rotating sculpture exhibit at the garden was an intensive, but relatively painless process. While many public art commissions become caught in the bureaucratic tape of city ordinances and regulations, this project was approved quite quickly. "Much credit should be given to Mayor Marty Blum for her dedication to this project and the arts in general," Goss noted. "She helped eliminate the barriers that normally would have delayed a project like this."
City officials worked with local business owners to ensure that the sculptures were safe and appropriate for public viewing. And there was effective collaboration among individuals such as designer Katie O'Reilly Rogers, County Arts official Ginny Brush, and Sullivan Goss's own curator of contemporary art, Susan Bush. All parties involved agreed that the cooperation between private institutions and the county was not only unique, but also rewarding and refreshing. "We have all worked extremely well together to increase the beauty of our already lovely city," Goss said.
Tyler Hayden is an Independent intern.