Visual Arts
Against the Wall at the Arts Fund
Traditional Gallery Space Exhibits Graffiti Art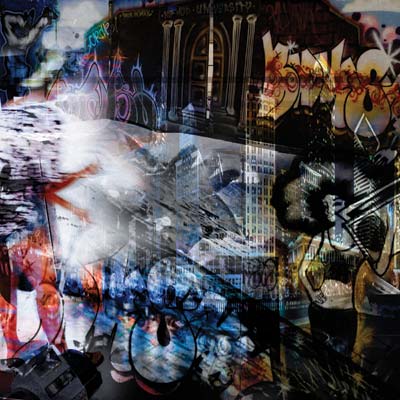 It's a rare occurrence in Santa Barbara when the oldest member of a group exhibition is younger than 30. But such is the case with Against the Wall, a show featuring young artists who specialize in aerosol art, a genre based on the methods, imagery, and materials of graffiti. It's an unusual show for a traditional gallery space, and the shifted context casts these works in a different light.
The tradition of street art has roots in the countercultural punk rock music scene of the late '70s and early '80s, when bands like Black Flag and Social Distortion adopted the graffiti aesthetic to promote their shows, hiring now well-known and highly regarded artists like Raymond Pettibon to create poster ads. In an age before graphic design software, these artists used the materials at hand-often not much more than ink and paint-to create now iconic images. Many of the artists in Against the Wall revisit the anti-authoritarian imagery of that earlier era, like Mac Oliver, who adopts the hand-drawn quality of punk posters in his portraits of Samuel Beckett, James Joyce, and Wallace Stevens, done in simple ink on paper. Dave Mastick Jr. takes this reference one step further, stenciling portraits of American political figures on vinyl records covered in a collage of mixed paint.
Some of the pieces, like Alexia's glossy, digitized prints of overlapping graffiti, seem to bridge the divide between the street and the art gallery, while Brett Hammond's "good business" is much rawer, corrugated tin mounted on a reused wood block serving as the surface for a spray painting of Uncle Sam.
The centerpiece of the show is a wall painted collaboratively by the show's participating artists and members of the public at the opening reception. Displayed without frames, mounts, or any other formal gallery devices, the wall serves as a reminder of the original, courageous impulse behind this youthful form of self-expression.