Visual Arts
Off the Wall
S.B. Art Borrows Beauty from the World Around Us
Mosaics, paintings, collages, monotypes, and photographs-it takes all kinds of art to keep a city inspired. Fortunately, Santa Barbara's artists themselves find an endless source of inspiration in the environment surrounding us. You only have to look around to see it.
Pretty Bird
One of the newer businesses in Santa Barbara, Rare Bird Art has been selling arts and crafts since opening its doors in late November. Before it was a place of business, the charming, red-shingled house was a real home and artist's studio for owner Susan Ellen Love. Love's artwork has long been available in Santa Barbara; her handcrafted mosaics and assemblage works have been commissioned by area residents and can be seen in houses across Southern California-and in the bathroom at Ca'Dario. Love is now expanding her practice into new areas, including gift cards and postcards with digitized images of Santa Barbara, furniture design, light-catchers, and even a line of baby clothes. In addition to an elaborately constructed, Gaudi-inspired mosaic fireplace, Love sells malt whiskey containers transformed into wine bottle gift bags, matchboxes converted into hand-decorated "wisdom boxes," and cloth tote bags decorated with Santa Barbara images. Love's commitment to the three R's-recycle, reduce, and reuse-is most evident in her expertly crafted assemblage pieces, in which she explores themes like city and family history using mementos including wine labels, old photographs, and ticket stubs. These pieces are a thoughtful alternative to the box of old memorabilia tucked in the corner of your closet.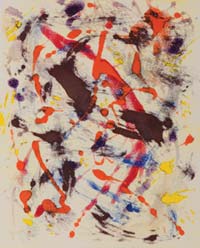 Center of Calm
As a full service spa, Qui Si Bella has been pampering Santa Barbara residents for the last few years with its calm spaces and relaxing treatments. To increase its ambient effect, the spa is currently making double use of its space by exhibiting abstract monotype prints and collographs by printmaker Avie Guttman. The artist has chosen works from her "Fantasy" series, in which swirling, bright colors float across the surface to create miniature, abstracted landscapes. Texture is a key element to Guttman's work, as she uses strategic brushstrokes to give her pieces a unique, multidimensional quality. In "Indigo," for example, Guttman has divided the surface into two planes, each with its own distinguishing textural characteristics, to create a decorative motif in various tones of blues. Guttman's ability to capture subtlety is the perfect complement to the Zen-inspired space.
Under the Sea
SOhO has been a perennial hub for Santa Barbara's hip music scene, and a great venue for capturing the attention of art and music lovers of all ages. This month, the club becomes a satellite space for the inaugural Rumble Art Fair, displaying the photographs of one of the fair's founders, Clinton K. Hollister. Hollister presents his Jacques Cousteau-inspired underwater images, a series of photographs that capture exotic life forms beneath the surface of the ocean. The brilliantly lit shots of sharks, coral reefs, seaweed, and clownfish provide a glimpse into a nearby yet unfamiliar ecosystem. Many of the subjects are captured in close range, focusing on the formal qualities of line, shadow, and color. It is in these images that the viewer finds the most revelations, as each organic form becomes an object of beauty and wonder.
Susan Ellen Love
At Rare Bird Art (501 Brinkerhoff Ave.) indefinitely.
Avie Guttman
At Qui Si Bella (3311 State St.) through March 30.
Clinton K. Hollister
At SOhO (1221 State St., #205) through February 24.