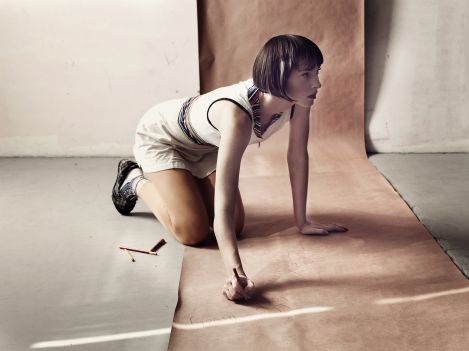 The people of Santa Barbara County, especially Isla Vista, know that finding a good, free parking spot is about as likely as finding a $20 bill on the ground. Unfortunately, free parking can leave a person's car vulnerable to bird droppings, keying, or the most damaging of them all, a nasty note. For Alex Lilly, frontwoman of Obi Best, the price of free parking was an angry note left inside her '92 Toyota Camry that read, "Learn how to park and lock your car." But unlike most of us, Lilly's negative experience went on to inspire her single, "It's Because People Like You," which we think is plenty better than finding a $20 bill.
Obi Best's debut album, Capades, features original songs from Lilly, a former backup singer for pop duo The Bird and The Bee. The band includes members of Lilly's former band, Colorforms, and the name "Obi Best" is a play on the old saying, "Oh be your best." The album includes bright synth pop music with quirky and precocious lyrics. There is certainly a childlike quality to Lilly's colorful voice, reminiscent of contemporaries like Leslie Feist and Khaela Marcich of The Blow.
Along with Bram Inscore and Barbara Gruska, Lilly incorporates "celestial noises" with the help of a synth. "I give him [Inscore] adjectives and he would turn them into sounds," she explained recently. Lilly admits that it was not a "conscious choice" to make her music synth pop, but this type of music is "so moody [and] can really trigger senses [that are] easily relatable." As a band, Obi Best makes instrument choices that work best for the emotions that they want to convey. They are heavily influenced by '80s pop because of its "ambiguous quality." In fact, it is this characteristic of their music that allows Obi Best to capture the emotions that they, "can't get to : with words."
Obi Best's music isn't all synth; songs like "Who Loves You Now" find their colorful melodies in Lilly's piano playing. Their music writing process involves a lot of "adding and subtracting," explained Lilly, continuing, "[but] other ideas are just spontaneous." People attending The Bird and The Bee show at SOhO this Saturday, February 7 will get a glimpse into this process when Obi Best opens the show with a set full of new tunes.
As for her experience with The Bird and The Bee, Lilly asserted that they have truly been a joy to work with. "I really had fun with Greg and Inara," she said. After Obi Best's tour with The Bird and The Bee, the band will embark on a two-week tour of the U.S. Lilly and Wendy Wang, Obi Best's bassist, will then continue touring as a duo with The Bird and The Bee.
The band has plans to go back into the studio in April, and Lilly is currently slated to tour Europe with Juliette Commagere of Hello Strangerand Ry Cooder in June. For ticket info about Saturday's SOhO show, call 962-7776 or visit sohosb.com.