Film & TV
Salty, Surfy, and Female
Women Who Love the Water Get Some Big Screen Time
The sport of surfing has evolved over the decades and so has the gender ratio partaking. The roots of female surfing and spread of the sport's popularity among women is what filmmakers Heather Hudson and Peck Euwer set out to showcase in their new movie Women and the Waves ," which premiered during the Santa Barbara International Film Festival last week.
The film screened during prime-time hours on Friday evening, January 30, to a packed theater, with unfortunate late-comers turned away at the door. A majority of the female surfers showcased in the film were present and fielded questions from the crowd after the screening. When asked what their favorite board is, all unanimously responded that an entire quiver is necessary, which elicited giggles from the audience. By all standards it appeared to be a successful screening, which was confirmed by Hudson's post-jitters glow at the after-party held at Kahuna Grill.
In an interview with Hudson earlier in the week, she shared her vision behind the movie and motivation for undertaking such a labor of love, which she never anticipated taking two-and-a-half years. When explaining how her role in all of it came about, she laughed and responded, "I've been calling myself the accidental producer."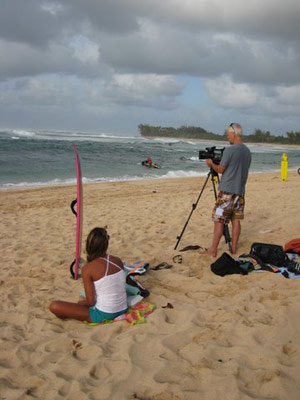 Hudson said that she "accidentally" fell into this project with filmmaker Peck Euwer, who has produced and filmed shows for the National Geographic Channel, the BBC, and Animal Planet, after being in front of the camera in his surf flick The Craving. "I saw myself in The Craving and realized I was the only woman in the film," she said. Hudson explained that when she began surfing in the '70s near Malibu, she would hardly ever see women in the water. But it's completely different now, and that change is what inspired her to make the film. "One moment of realization for me was being in the water at Rincon, looking around and seeing nine women and only three guys," she recalled. "I thought, 'Wow, I can't believe this has happened.'"
Once she got the idea in her head, Hudson said, "The whole movie kind of just evolved. From the beginning I went with the flow and things just sort of took shape." She decided it was important to showcase women surfers from different generations, because a main goal of the film was to show that women have always surfed despite the sport gaining widespread popularity among girls only recently.
Hudson began her quest by seeking out Linda Benson, the first female to compete at Waimea Bay on Oahu's infamous North Shore and one of the original pioneers of women's surfing. When Benson agreed to be in the movie, Hudson knew it was a go. "There are people you've always heard about growing up," said Hudson. "She was one of those for me. I was driving when she returned my call, and I had to pull the car over. I was too excited to drive."
After Benson committed to the film, the list of female surfers grew from hometown folks such as Heather Tiddens, who runs a yoga studio in Carpinteria, Santa Barbara Surf Club President Debbie Trauntvein, and Kim Mearig, one of the first professional female surfers, to NorCal'sRobin "Zeuf" Janiszeufski-Hesson, big-wave rider Jennifer Useldinger, and international hard-charging pro Shakira Westdorp from Australia. Hudson explained that she wanted to showcase real people who can be seen out in the water every day ripping, instead of the same few women who are sponsored by companies like Roxy and seen in nearly every female surfing video.
This goal shows through in the narrative and interviews of the surfers. They open up about what surfing has meant in their lives as Hudson asks the same set of questions to each woman to see how their responses change according to their generation. When each woman was asked how they would react to someone telling them they surf like a girl, a range of responses were evoked. The older women, including Linda Benson, at first said they would be offended and then paused and remarked, "but I guess women surf really well now, so maybe I wouldn't mind." While the majority of the younger girls responded with a sentiment reflecting Jenny Useldinger's: "I want to surf like a woman. We are way more graceful."
After the screening, audience members asked Hudson what her next big plans were. She responded she wants to get back to spending more time with her family, but also has plans to take the film across the nation to other festivals. She added, "I've been getting emails from around the country asking, 'When are you gonna bring it here?'" And she doesn't want to disappoint.
The film also comes out on DVD sometime this month. To check out more about the movie and/or buy the DVD go to thewomenandthewaves.com.