Living
New Spin on Bottled Water
Santa Barbara's Jason Clelland Delivers Eco-Conscious Brazilian Springs Water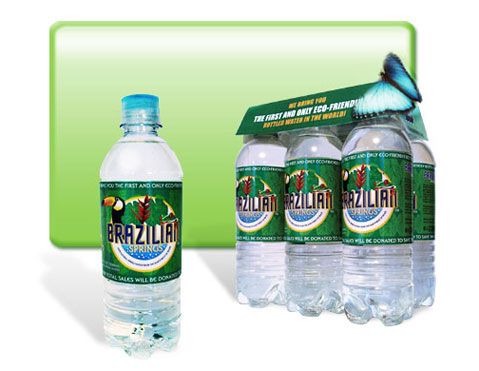 For eco-conscious Californians who dutifully tote around re-usable thermoses and stainless steel canteens to hydrate, buying bottled water is like committing a sin.
But Santa Barbara-raised business entrepreneur Jason Clelland has a different vision for what bottled water can achieve. He thinks that, contrary to the opinion of many environmental groups across the country, bottled water could even help save the planet. And that's the new focus of his company Pacific West Distributors, which is already delivering Brazilian Springs Water to the Santa Ynez Valley and plans to expand distribution of what Clelland believes is an earth-friendly product to the coast in the near future.
Clelland's view may be a hard sell considering that, over the past few years, both conservation-minded and health-related nonprofits, such as Food and Water Watch, have reported that bottled water is not actually better for people but is detrimental to the earth, requiring 47 million gallons of oil per year to satiate America's demand alone. The World Watch Institute reported in 2007 that nearly two million tons of empty water bottles are sent to landfills each year despite the plastics being in high demand by recyclers, and Corporate Accountability International estimated the annual cost of their disposal at $70 million. All of these concerns have begun to shift consumers away from bottled water, and Santa Barbara – as well as bigger cities such as San Francisco, Seattle, and Salt Lake City – have already banned the purchase of bottled water for government events and meetings. But despite this awakening, America remains the number one bottled water consumer in the world, and Clelland is confident that doesn't mean the environment is doomed.
So two years ago, Clelland started Pacific West Distributors, and more recently teamed up with Brazilian Springs, which donates 10 percent of its gross sales – not of profits, which can be tweaked by companies to minimize donations – to a conservation organization called the Brazilian Rainforest Foundation (BRF). In partnership with The Nature Conservancy, BRF is devoted to buying up remaining swaths of intact Amazon rain forest as well as land in its smaller more decimated counterpart to the south, the Atlantic Rainforest. According to Brazilian Springs, by donating 10 percent of each purchase, every bottle sold allows BRF to secure an average of 90 square feet of land. This means that every 600 sold saves an acre of rainforest that would otherwise be burned for farming, logged for timber, or bulldozed and paved over.
"Without the Amazon rain forest, global warming cannot be prevented. So it is crucial that we preserve the 'lungs of the planet.'"
Clelland explained that when he heard about Brazilian Springs and their self-avowed mission to help preserve the Amazon he "thought it would be a good chance to do something positive for the environment and be a small business owner at the same time." He also spoke about the importance of protecting the Amazon rain forest in particular. "Without the Amazon rain forest, global warming cannot be prevented. So it is crucial that we preserve the 'lungs of the planet,'" he said, referring to the CO2 and other chemical compounds the Amazon absorbs and the fact that it produces 20 percent of the world's oxygen.
Currently, Clelland has put Brazilian Springs Water on the shelves of several stores in the Santa Ynez Valley and is signing a deal with Safeway to bring it to 20 stores in Phoenix and Scottsdale. As a Santa Barbara native and former SBCC student, his next goal is to bring the product to shops in both Santa Barbara and San Luis Obispo County within the next few months.
When asked how he responds to the criticism that "green" bottled water is an oxymoron, he explained that because of the amount of rain forest preserved with each sale, every bottle covers its own carbon footprint (the amount of CO2 released to produce it) 200 to 500 times. He explained, "People are going to drink bottled water one way or the other, and if they can do it in a way that gives something back to the environment then that's better : Now people can make a difference by doing what they do anyway."