Arts & Entertainment
Camerata Pacifica
At Hahn Hall, Music Academy of the West, Friday, February 6.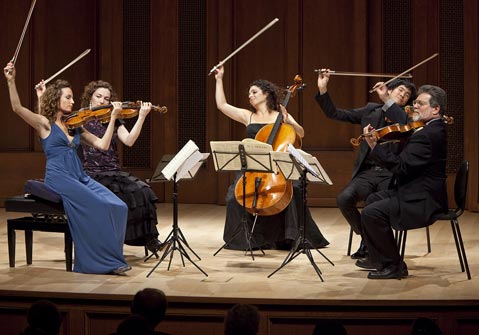 As usual, Adrian Spence had the audience swooning in his pre-concert talk at Hahn Hall-everyone finds him too charming to resist. But this time, his audience was shorter, smaller, and less likely to find a classical impresario spellbinding than usual: They were elementary school students from Hollister Elementary.
"So, are we going to fidget?" he asked. "Noooo!" they shouted back. "So get out your fidgeting right now! I've got a six-year-old and an eight-year-old, and I know a lot about fidgeting. And when are we going to clap? Every time they stop playing?" "Nooo!" "Well, when?" "At the end!" "But how do you know when it's the end?" They stopped, puzzled. "When I say so!" shouted Spence, "and I'll even tell you what to listen for. Come on out, Miley Cyrus!" Catherine Leonard, the Bob Christensen Chair in Violin, emerged, looking radiant, but very little like Miley Cyrus, despite Spence's running joke that she did. Soon, he had everyone out, and his audience went from laughing and shouting in glee to fascinated silence as Leonard, Nurit Pacht (violin), Toby Appel (viola), Richard O'Neill (viola), and Ani Aznavoorian (cello) began the Mozart String Quintet in C Major, K. 515.
The group held nothing back-not a crescendo was flattened, not a phrase lost its nuance-despite the young audience and the relatively early hour. Camerata Pacifica has always played with brilliance and artistry, but lately, a new level of maturity, confidence, and grace has emerged. At the right time, Mozart can bring out the best in a great group, and that's exactly what happened. The opening allegro was bold and beautiful; the menuetto skipped playfully; the andante elevated and devastated us; the allegro molto vivace finale raced gleefully to a close, and everything seemed both easy and astonishing. It was a short concert, for shorter attention spans and people with only a lunch hour to spare, but it seemed worlds away from all the things Santa Barbara has to do on a Friday afternoon.
When the lighting-fast bows and fingers of Camerata Pacifica finally came to rest, Spence held up signs that said, "Clap," "Cheer," and "Stamp Your Feet," but he didn't need to. The students of Hollister Elementary School, who had behaved wonderfully throughout, would have done so anyway. Outreach has rarely sounded so good, or been done so well.