Books
Coffee Table Surfing
Opening Up Kelly Slater: For the Love and Wolfgang Bloch: The Colors of Coincidence
Kelly Slater: For the Love
There is little doubt left that Mr. Robert Kelly Slater is the greatest surfer of our time-or any time, for that matter. At 37 years old, the nine-time world champion is the winningest surfer ever, has taken home the most prize money, and, most importantly, has continued to reset the standards of high-performance surfing over and over again in the past two decades. In short, he's an athletic freak easily on par with the likes of Michael Jordan, Lance Armstrong, and Tiger Woods. And now, with a little help from esteemed Australian surf journalist Phil Jarratt, the part-time Montecito resident can add author-of-a-damn-fine-book to his long list of accolades.
Kelly Slater: For the Love is a surprisingly insightful, high-gloss, scrapbook-style, eye-candy orgy of Slater's surfing and occasionally rock star-esque life. From his grommet-hood in Florida, stint on Baywatch, countless competitive victories, and temporary retirement to his legendary free surfing exploits and recent head-over-heels love story with a USCB Gaucho, the book has enough Slater stuff to satisfy even the most die-hard fan. And while the photos do anything but disappoint-they really drive home the fact that before he started hanging in the 805, Slater truly was a resident of the world for the past 20 years-the real reward in the book comes in the snippets of writing, la extended-captions, which accompany most of the pictures. In these, we get Slater's take on his life's trajectory and his feelings on the environment, death, competition, conspiracy theories, and fame-shoots, he even dishes on his short-lived fling with Pamela Anderson.
But even more revealing are the passages penned by those who know Kelly best, like Shane Dorian, fellow part-time Montecitan Jack Johnson, various surf photographers, "surrogate" moms and dads from all over the world, and the aforementioned Anderson. It is in these asides where a more complete, honest, and compelling portrait of Slater is painted than perhaps ever before. Let's just say the guy isn't just a genius when it comes to wavesliding; he has some serious amounts of decidedly not ocean-related intelligence working for him as well.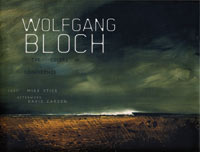 Wolfgang Bloch: The Colors of Coincidence
If you've been to the Brewhouse on Montecito Street anytime in the past year or so, then you've seen firsthand the influence of Wolfgang Bloch. Much of the art hanging on the wall in the restaurant's biggest room is a blatant ode to Bloch's unique and captivating style of painting. As much showcasing art as it is a work of art itself, The Colors of Coincidence is a collaborative effort by Bloch, former Surfing Magazine writer Mike Stice, and world-renowned graphic designer David Carson to package together Bloch's impressive body of work and tell his unusual story.
Born in Ecuador and a lifelong surfer, Bloch's oddly romantic yet gritty renderings of surfscapes are like a bolt of lightning in the world of traditional surf art, being both illuminating and a little bit scary. While big flowers, picturesque turquoise bays, frolicking dolphins, smiling tikis, and sunny waves are the standard for surf art, Bloch's work-with its pulled-back views of moody and often dark-looking swell lines peeling along the horizon-captures an essence of surfing that any true devotee of the Sport of Kings can relate to. Often using such unlikely canvases as discarded pieces of wood or scrap metal, Bloch delivers an organic, one-of-a-kind experience for the viewer that is perfectly in step with a trip to the beach on days when sunbathing is the farthest thing from your mind.
Ironically, Bloch used to make his living as a commercial designer for surf industry heavyweights like Gotcha, MCD, Billabong, and Quiksilver. His work for them, iconic in its own way, is hard to reconcile with his high art of today. As light and easily digestible as his corporate work was-and had to be-Bloch's paintings are the polar opposite: They are a full meal that can captivate you for hours and send your mind surfing down paths you never considered before. It is just that good.
The Colors of Coincidence is the creation of a surfer who grew up far away from the glitz, polish, and mind meld of an Orange County-based surf industry only to cut his artistic teeth deep in the bowels of the O.C. before eventually returning to medium that made sense to him as a surfer and as a painter. It is for this reason that every surfer will no doubt appreciate-if not feel enlightened by-Bloch's art, and every non-surfer will find him or herself equally satisfied. I suspect copycat Wolfgang Blochs are hanging on Brewhouse walls all over the world.