Bottles & Barrels
Doing Harvest Down Under
Jaffurs Wine's Cellar Master Matt Brady Goes to Two Hands Wine in Australia's Barossa Valley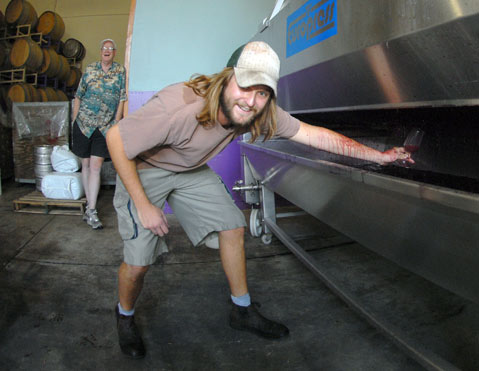 In the Southern Hemisphere, where grapes ripen from January to April, California winemakers can escape across the equator to participate in their second harvest of the year, gaining punch-down-worthy arms and valuable experience in a faraway land. Once such hotspot is Australia's Barossa Valley, where wineries prepare for the flip-flopped harvest just as Santa Barbara's crush wraps up and our wines are barreled down. This time around, Two Hands Wine will welcome Jaffurs Wine Cellars' cellar master Matt Brady to its powerhouse shiraz production team for the first half of 2009. And Brady will be writing about his adventures for The Independent on his Wine About blog, open for business now at independent.com/wineabout.
Santa Barbara oenophiles and weekend tasting room hoppers have most likely interrupted Brady at Jaffurs rocking out to the Rolling Stones while climbing the barrels in the back of the winery. What started as a part-time tasting room job while at UCSB quickly became a full-blown career after graduation, when he took over as tasting room manager and cellar master in 2006. "I caught the wine bug," he said, and has been staining his hands purple helping winemaker Craig Jaffurs and assistant winemaker Dave Yates produce world-class Rh'ne varietals-particularly syrah, grenache, and viognier-ever since.
Syrah is known and grown as shiraz in south-of-the-equator hubs from Australia to South Africa, but it is nonetheless the same grape. Two Hands is a premium shiraz producer from the Barossa Valley, but also bottles top-quality grenache and cabernet sauvignon from various geographic regions of Australia. Consistent reviews and stellar juice had Robert Parker pronouncing Two Hands as "the finest negociant operation south of the equator" in 2004. Its wines have earned spots on the Wine Spectator Top 100 list for the past five years, with two spots in the top 10, most recently the fifth place nod for the 2005 Bella's Garden Barossa Valley Shiraz. The "two hands" in question are actually four, belonging to Michael Twelftree and Richard Mintz, who started the winery with Matt Wenk as winemaker in 1999.
As a harvest intern, Brady will work under Wenk with fruit from the wine districts of Southern Australia that form a ring around Adelaide. The stone cottage tasting facility (known as the Cellar Door) and winery are located in the sub-district of Marananga, but the regional diversity of the portfolio sources fruit from six distinct growing regions that include Barossa Valley, Clare Valley, Heathcote, Langhorne Creek, McLaren Vale, and Padthaway. Grueling hours spent guiding grapes from vineyard to barrel require more than just two hands, and the mutually beneficial relationship between winemaker and cellar rat provides a fast-paced education that develops and grooms interns to go off on their own one day.
"The choice of location was the easiest part of the process," explained Brady. "Any new winemaking experience is going to increase your skills and knowledge, but the similarities in the syrah/shiraz programs between Jaffurs and Two Hands made it a natural decision to choose Australia; and I have always wanted to see a kangaroo. At Jaffurs, we make seven different syrahs and Two Hands produces well over a dozen. The real focus starts with maintaining the quality and characteristics of the growing region and really being able to bring that to life in the finished wine."
And that's what he'll be doing at Two Hands, which truly is near the top of the worldwide list for grape quality, production standards, and cutting-edge technology. As a New World winery, the Two Hands team very much embraces modern winemaking techniques, so Brady will be given ample opportunity to bring back a skill set that will prove useful to the Jaffurs' already esteemed program. And maybe he'll even bring back a kangaroo.
4•1•1
Matt Brady is already working at Two Hands in Australia's Barossa Valley, and blogging about his experiences at independent.com/wineabout. To sample Jaffurs' wine, visit its tasting room Friday through Sunday, late morning to early afternoon, at 819 East Montecito Street. See jaffurswine.com or call 962-7003. Two Hands wines are available at The Winehound, Vino Divino, and other retailers in Santa Barbara.