JAZZ SHOW ALERT: Male jazz vocalists of the Real Thing sort, and not the Michael Buble/John Pizzarelli wannabe Sinatra ilk, are a rare breed. At the top of the heap these days is Kurt Elling. The mid-career Chicagoan and world citizen, who makes his Santa Barbara debut at the Lobero on Thursday, keeps his musical integrity polished and isn't afraid to take on and personalize legendary moments in jazz history. To that end, his current project is "Dedicated to You," in which he dares to visit the classic Johnny Hartman/John Coltrane album from 1963. Playing the role of Coltrane is saxist Ernie Watts, whose Coltrane influence is worn on the sleeve, while Elling's longtime pianist ally Laurence Hobgood keeps the rhythm section in good stead.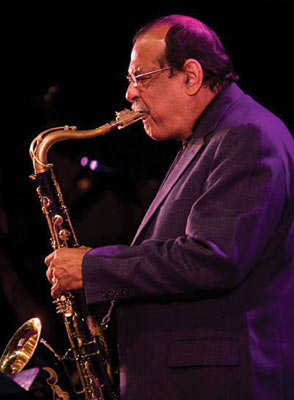 LA LOGBOOK, SALONEN COUNTDOWN: Last May, Esa-Pekka Salonen and his Los Angeles Philharmonic served up a rite-of-passage at the then-new Granada, launching its bold new life as a fine orchestra hall in Santa Barbara. A more ideal christening could hardly be imagined, especially given the L.A. Phil's decades-long history with CAMA-hosted concerts in town. On a more bittersweet note, the new beginning was also an ending, the last appearance with Salonen at the helm, before the baton gets passed to young dynamo Gustavo Dudamel next season.
Salonen, the mighty Finn, has chiseled and honed this orchestra-by regional, Southern Californian extension, our orchestra-into an internationally ballyhooed ensemble, one unafraid to tackle new repertoire and enlighten an expanding audience. The challenge is clear to all involved in classical music: New converts must be made, the corporate-sponsored dumbdown drumbeat of pop music marketing countered, and the message delivered that classical music, and orchestral music in particularly, is one of the sexiest and most powerful musical experiences one can have in a theater. Salonen did more than his share in spreading that gospel.
That Salonen-refined polish and fearlessness was on parade when the conductor led one of the last few programs of his swan song season, a few weeks back in the glorious digs of the Walt Disney Concert Hall. (If you haven't heard an orchestra concert in this venue, you're missing out.)
For one of two January programs in this Salonen countdown period, the conductor presided over a juicy program, with the salty-sweet mini-majesty of Janacek's 1926 Sinfonietta and a righteous take on Rite of Spring (what other kind is there with Salonen?). The program's centerpiece was a wowing world premiere of Dutch "Euro-minimalist" Louis Andriessen's The Hague Hacking, a double-piano concerto played by those fabulous sisters, Katia and Mariette Labque.
Andriessen's new piece is, in short, an epiphanic little musical miracle. While much of the work adopts a dissonant tonal language and an expressionistic spirit, the music is super-charged with rhythmic and textural intrigue. The Labques' famous telepathic connection is capitalized on, as they engage in intricate "hocketing"-answering each other's phrases. Something truly head-turning happens toward the end, though. Suddenly, after all the musing and scattered chatter between soloists and orchestra, rigorous Messiaen-like phrases are played in a riveting, galvanizing unison by all onstage, an amazing angst-clearing gesture, especially with these musicians, in this hall.
This program closed with what should be the best kind of warhorse, Rite of Spring, a Salonen specialty. In a thrilling reading, all the more vivid given Disney Hall's you-are-more-than-there acoustics, Salonen asserted his magical Midas touch with this score. Tense, fragmentary, and obsessive in its way (thus an ideal theme song for the 20th century), Rite of Spring is also a powerfully sensuous and cautiously hopeful musical construct. In Disney Hall, some of us had the feeling we'd never hear it played better.
Salonen returns for a few programs in two weeks in April, including a "Green Umbrella" new music program (Tuesday, April 7), a premiere of his new Violin Concerto (April 9-11) and a grand finale, suitably lined with Stravinsky (April 16-18). Check it out if you can, while you can.