Arts & Entertainment
Tokyo String Quartet at UCSB
World-Famous String Quartet Plays JanacekWorld-famous string quartet plays Janacek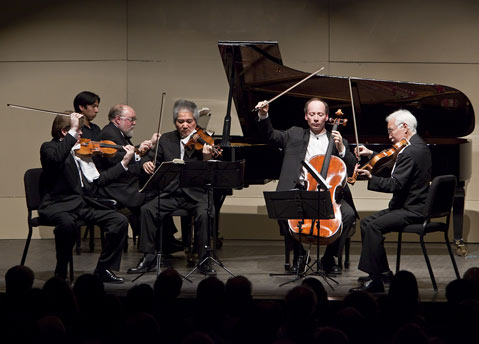 When it comes to string quartet culture on Santa Barbara's concert calendar, the bar is set high. In any given season, and during the summer flowering of the Music Academy of the West's stellar festival, we get a steady flow of quartets at the upper end of the medium's game. Add the Tokyo String Quartet to the list of great quartets caught locally, following their marvelous and soothing Cambpell Hall concert last Wednesday.
Time and seasoning is on their side. Officially formed in 1969 at Juilliard (although only violist Kazuhide Isomura remains as a charter member), the Tokyo is a model citizen and a senior statesperson on the scene. They also appreciate the importance of spicing up their performances with music outside the box of conventional, moldy repertoire. At Campbell Hall, for instance, the mostly-Czech program began at the beginning, with Haydn, leapt forward into the 20th century, to Jan¡Äek, and settled back into the comfy chair of the late 19th century, courtesy of DvoÅ¡k.
Haydn's Quartet in D, Opus 76, No. 5, played by these Haydn specialists with a particular sensitivity and controlled fire, provided another satisfying blast of the composer, following the recent bristling performance of Haydn's Symphony No. 60 by the San Francisco Symphony at the Granada. Haydn remains paradoxically underrated and under-performed, yet he looms over the classical landscape. The Tokyo Quartet showed great insight and lightness of being, where fitting.
Clearly, though, the main event of the Tokyo's evening was LeoÅ¡ Jan¡Äek's fascinating Quartet No. 2 "Intimate Letters," written for his muse in 1928, and the final piece the great Czech composer penned. Here is a fine example of how Jan¡Äek's music can bridge his personal brand of Modernism with traditional, tonal musical values. What begins with rugged ensemble assertions mixed with ghostly solo harmonic parts ends with a riveting finale and a single high note, an ear-tweaking ninth interval.
On a rare local note, vis- -vis Campbell Hall concerts, UCSB Music Faculty chair Paul Berkowitz expertly attended to soloist duties on Dvošk's Quintet in A for Piano and String, Opus 81, filling the concert's second half with late Romantic washes of sound. Berkowitz acquitted himself nicely and established an ensemble connection with the quartet, although the music itself felt like something of an anticlimax after the thrill ride of the "other" Czech on the bill. This one ended squarely on the one.