News
Greka Fights County over Fines
Embattled Oil Company Appealing Repeated Fines Levied by Santa Barbara County Inspectors
In a little-known office space on Figueroa Street, the first round of an unprecedented series of hearings concerning appeals of fines against Greka Energy concluded with little fanfare last week. Considered by many to be Santa Barbara's environmental public enemy number one for its facilities' frequent and flagrant oil spills, Greka has been quietly fighting more than 1,500 violations and more than half a million dollars in resulting fines at meetings with Santa Barbara County staffers and counsel since late January. After lawyers from both sides finished arguments on Wednesday, February 11 – closing remarks are due February 20 – the ball is now is in County Planning and Development Director John Baker's court on just how much of the $558,000 in fines Greka must pay.
Late last winter, after a spate of mishaps at three of its facilities spilled more than 100,000 gallons of crude oil, Greka, the biggest onshore oil operator in Santa Barbara County, found itself under increased scrutiny from county, state, and federal regulators as well as public and elected officials. Spurred into action by Greka's track record, Santa Barbara County supervisors cracked the whip on their staff, demanding more oversight of onshore oil producers, redoubled inspection practices, and a more aggressive petroleum code to reign in repeat offenders.
Last week's hearing – which pitted Santa Barbara County deputy counsel Maria La Sala, County Petroleum Administrator Mike Zimmer, and two County Building and Safety inspectors against Greka's lawyer Susan Whalen, former county supervisor and hired Greka spokesperson Mike Stoker, and Greka quality assurance representative Jeanette Boyer – resulted from that aforementioned whip cracking. In fact, not only were the merits of the 1,500-plus violations the crux of the meeting, but the appeal process itself had never been invoked until this time.
In a heated but informal back and forth, the Greka team and county officials retraced each facility's violation history. While the inspection dates varied, a pattern nonetheless emerged. Greka would be inspected. Violation and correction notices would be issued. Thirty days later, when no work to fix the problems was evident, a second notice would be sent telling Greka it had 15 days to fix the problem or start accruing fines.
At the end of that period, the county would send out its first Notice of Violation (NOV) effectively starting the clock on fines and giving Greka another 30 days to fix things before a second round of fines. At the end of that period, if violations still remained – and more often than not they did – a Notice of Determination of fines would be issued to Greka, and a second NOV, with a new 30-day deadline and the potential for a whole new level of fines, would also be sent. County petroleum administrator Zimmer said that while many violations were remedied by Greka during this process, several violations remain uncorrected as of press time. Consequently, Zimmer is asking the county to fine Greka $558,000.
Greka is taking a two-pronged line of defense. For some violations, its representatives argue that the problems were fixed but that the county did not inspect them in time due to an overburdened staff. (County representatives refute this claim.) In other cases, Greka points to an alleged agreement hammered out by former supervisor Stoker and Greka president Andrew deVegvar with county bigwigs last spring when, in Stoker's words, Greka was "under siege by the most aggressive unprecedented inspection schedule" in the county's history.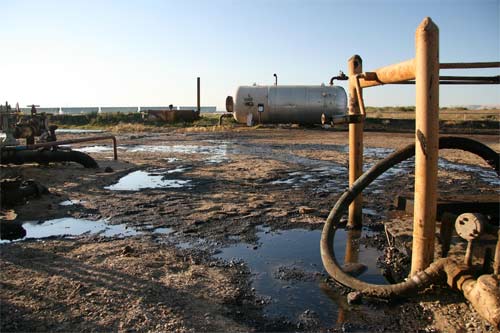 Stoker claims all parties knew Greka could not make good in the eyes of regulators in such short order, so the company brokered an understanding of "good faith and due diligence" with the county in which it would work toward the desired goal by putting out big fires first and smaller ones later. Stoker said he feels that Greka, despite the hundreds of outstanding violations, has held up its end of the bargain by putting more than $36 million into infrastructure repair since last year. Zimmer does not remember the agreement in the same way, saying that the county upheld its end of the deal by extending the clock on all of Greka's second NOVs to 90 days, basically giving the embattled oil company an extra two months to get its act together.
Regardless of agreements or insurmountable violations, county attorney La Sala said Greka should pay every dime of its fines. "These standards and regulations they are being held too aren't anything new – they have been in place for many years," she said. "If the fines aren't upheld, I don't know how else to motivate this company."
And while it remains to be seen when Baker will issue his final ruling, the whole crew will be meeting early next month for a second round of appeals hearings regarding more recent Greka violations. "Essentially, they are appealing everything now," La Sala said wearily.