Sports
Leipheimer Goes 3-for-3 in Solvang Time Trial
Another Tour of Amgen Title Almost Assured
Levi Leipheimer overcame David Zabriskie's superb effort to win the Amgen Tour of California's "race of truth" Friday for the third consecutive year and put himself in an almost unassailable position to claim his third overall championship in the nine-day, 750-mile cycling race.
Such was the truth that emerged from the streets of Solvang, and both top riders proved they could handle it.
"I appreciated this year's time trial the most," Leipheimer said after cranking through the 15 hilly and twisting miles in 30 minutes and 40.52 seconds. "David came to play. Eight seconds. It was a real race."
Zabriskie, a four-time national time trial champion, posted a time of 30:48.95. Leipheimer, the last man out on the course, knew he had to give his all – unlike last year, when he blew away the field. Turning into the homestretch through the throng of spectators lining Cophenhagen Street, Leipheimer could see by the clock that he had it won. As he streaked across the finish line, he held up his right hand, flashing three fingers.
The triumph increased Leipheimer's overall lead in the tour to 36 seconds over fellow U.S. rider Zabriskie. Britain's Michael Rogers dropped to third place, 46 seconds in arrears.
Two more stages – almost 190 miles of racing – await the 106 riders who have survived the first six stages and prologue. The early stages were lashed by wet, cold weather, and it came as a relief Friday that the weather was picture-perfect in the Santa Ynez Valley.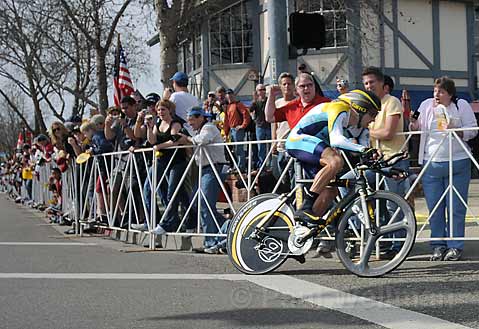 Zabriskie gave an honest appraisal of his chances of overtaking Leipheimer. He made note of the leader's Astana team and said, "It would take a lot of screwing up on their part." Zabriskie's team, Garmin-Slipstream, is no slouch, but Astana is truly formidable with Lance Armstrong and company now playing the role of "domestiques" – riders who serve their leader.
Armstrong, who came into Friday's race 30 seconds behind Leipheimer, faced his own truth – as a 37-year-old coming out of a long layoff, he wasn't about to dominate this international field. Armstrong finished 14th in the time trial, 1:16 slower than Leipheimer, and dropped to sixth in the overall standings.
"Lance is a great teammate," Leipheimer said. "I think he will focus on helping me win the race."
Astana's mission is to escort Leipheimer to the finish line at the Rose Bowl on Saturday and Escondido on Sunday ahead of his closest pursuers – Zabriskie, Rogers of Team Columbia-High Road and Jens Voigt of Team Saxo Bank.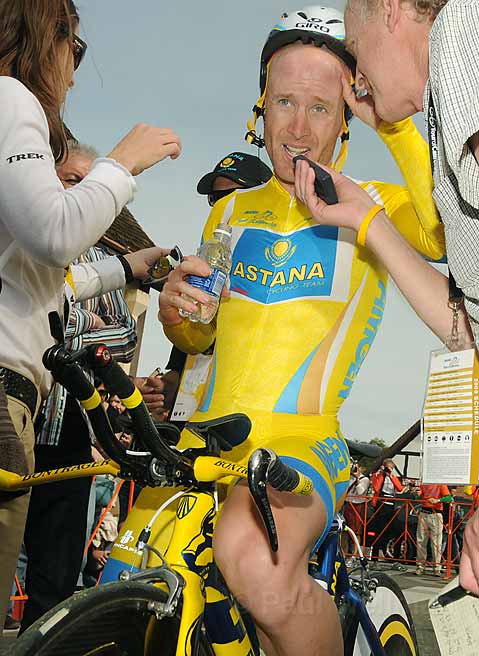 Santa Barbara cyclists showed up well in an amateur "race of truth" Friday before the pros took center stage. Gary Douville of the Platinum Performance team took first place in 33:47.46, which would have put him ahead of one-third of the pros. His teammate Brian Cook was second, and Brent Kay of Temecula took third among the 32 riders.