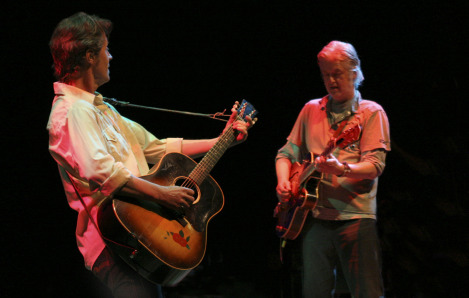 Canadian rockers Blue Rodeo have quite a diligent following in Santa Barbara, and their Saturday night Sings Like Hell show at the Lobero Theatre proved that once and for all. Companion act and repeat Hell raiser, Tim Easton (his prior series visit was six years ago) got the packed house riled up for an extended set that ended with the crowd on their feet and cheering. Easton's unassuming entry belied the way his voice filled the room, starting with his opening song's very first notes. There's a reason why critics hail Easton as one of the best alt-country solo performers making the rounds today, and he proved to be a worthy accompaniment for Blue Rodeo. "How do you like my band?" he joked. As the lone man onstage, Easton provided his own backup by way of acoustic guitar, stomping self-produced drum rhythms, and some resonating harmonica hooks. When he introduced a song he said he'd written for Tom Waits, I couldn't help but think what more he could have done to the tune. Easton did more than justice to every one of his poignant and eloquently crafted songs and we could have listened to him play all night.
Still, there were no complaints when Blue Rodeo filed onstage. While this was my first introduction to the band – though they did come highly recommended – the majority of the audience members could sing along with the hits. The Canadian band has been recording, touring, and winning awards for more than 20 years, and it shows. High school friends Jim Cuddy and Greg Keelor began Blue Rodeo in 1984, and their performance definitely befitted their long history together. Song after song on the band's extended setlist featured their two voices harmonized in a way that gave both depth and texture to each of their tunes. My concert-going companion turned to me at one point and called them the "Indigo Boys," in reference to the strength of their harmonies. The rest of the band, including original member Bazil Donovan, Bog Egan, and Glenn Milchem, exemplified what a tightly knit group should sound like, playing with relish and abandon that captured the audience throughout.
At the traditional Sings Like Hell post-show reception, Canadian and American fans descended upon the Rodeo members for photos and autographs, not wanting the celebration to end. And indeed, the night was a celebration that likely got the devil himself singing along.