Business
Can Wind and Solar Compete in This Market?
Renewable Energy Companies and Their CEOs Face the Global Credit Crisis at ECO:nomics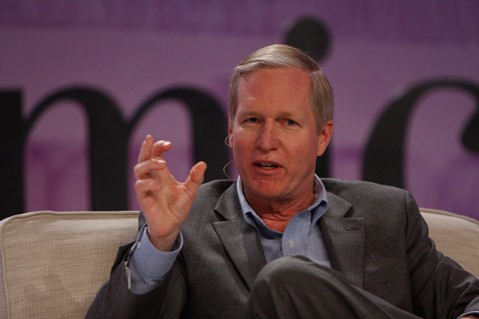 The final presentation on Thursday's afternoon calendar at ECO:nomics was "Fresh Juice," a confab that included Thomas Werner, CEO of SunPower, and Douglas Pertz, president and CEO of Clipper Windpower. Clipper has its headquarters in Carpinteria, although their manufacturing is done in Cedar Rapids, where they have a 330,000-square-foot production and assembly facility. These companies are two of the leading creators of green jobs in the United States, but they are being squeezed right now by the contraction of the debt markets. Clipper has had to lay off employees in Cedar Rapids, and Sun Power has made lay offs recently as well.
The session leapt straight into the line of fire, with both executives addressing current obstacles to operations directly. While Clipper has shipped turbines in the last six months, they have not taken any new orders in that time, according to Pertz. Werner opened his remarks by invoking the concept of multiple compression, emphasizing that while his company's revenue is up, its market capitalization has nevertheless shrunk due to the fact that, for the moment at least, "project finance doesn't exist." He went on to say that climate had not cooperated with his enterprise either, explaining that "it's hard to convince people in Germany [thus far SunPower's biggest market] to put solar systems up when they are digging out from under a huge snow storm."
Pertz cited some impressive metrics from Clipper before adverting to the judgment of T. Boone Pickens, whom he quoted as having said "this wind stuff is dead as hell" just a few hours before. Pertz said that unfortunately, he was inclined to agree. In response to the follow-up question, which was "when you're dead as hell, what do you do?" he summarized the strategy as follows: "We cut back, we work harder, and we get through it. We wait for the stimulus to free debt markets up, and in the meantime, we invent new ways to get financing." Pertz added that the latter step would be necessary in any event, because "out of the finance sources for renewable energy available last year, a third of them are already gone."
Both executives were asked to put their respective technologies in relation to fossil fuels on cost. Pertz said that, with government subsidies, wind was within a few cents, and clarified that wind was around $0.21 per kilowatt hour, versus a fossil fuel market price of $0.15 per kilowatt hour. Werner began by admitting that for him, this was a tough question, and then quoted a figure of approximately $0.34 per kilowatt hour for solar.
At this point the moderator from the Wall Street Journal posted a slide of an opinion poll that showed that nonspecialist average citizens thought nearly exactly the opposite. Right at the top of the Perceived Economy by Power Source chart was solar, which well over 20 percent of those polled believed was the most cost-efficient of all power sources. When asked how they planned to manage such unrealistic public expectations, both men seemed surprised at the question. With all the real pressure facing energy companies today, it seems public misconceptions may have lost some of their ability to intimidate CEOs. Nevertheless the chart led the discussion in an interesting direction.
Pertz was first in with the comment that, with political change in the "wind," it might only be a matter of time before price differences are no longer a problem. Werner followed up with one of the day's most telling remarks, saying that the public's misperception that wind and sun were less expensive sources of energy than coal, oil, and natural gas, was based on the truth, which is that the wind and the sun are in fact free. "Our fuel is free," he went on. "What's not free is the cost of building out the solar energy system. But the build-out has never been free. What do you suppose it cost to build the first coal-fired electricity generator? Did that project pay for itself?"
Both Pertz and Werner agreed that, from a policy standpoint, what needs to happen soon is something that will address the scale of the renewable energy initiative, preferably an effort on the part of the federal government that increases interaction between Washington and the state power commissions. Werner added that, as far as reaching a more economically viable scale was concerned, solar and wind were not competitors but rather complementary technologies. He pointed out that the two technologies draw on natural phenomena that often occur at different times of day. All this led to a lengthy and technical discussion of various strategies and technologies of power storage and distribution. The current grid is apparently not "smart" enough to bring renewable online easily today.
Pertz left the audience with the observation that he expected wind to be integrated effectively into the power system soon, but perhaps not within the next four to five years. He cited that Clipper still has plans to build the world's largest wind farm – five gigawatts – in South Dakota.
Werner answered the "when?" question with a similar timetable – "five to 10 years" – and with a pledge that renewable energy would represent not only a green alternative, and sufficient power quantity, but also would provide a higher quality of power than ever before.