Arts & Entertainment
The Many Faces of Richard Swift
Eclectic Song Man to Share New Tunes at Muddy Waters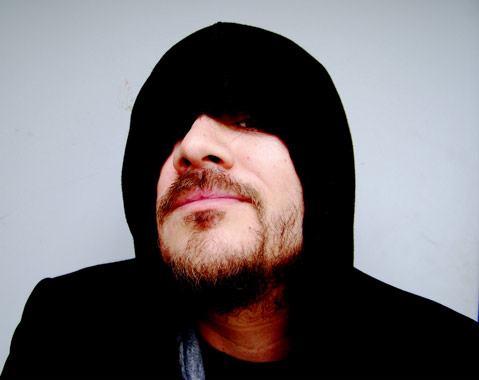 As a musician, Richard Swift maintains a loose but loving hold on the American folk canon. As a visual artist, he exemplifies the idea of "detail oriented," crafting works that are as intricate and layered as they are meticulously constructed. And as a producer, Swift relies primarily on the methods of a bygone era, one that flourished without the help of ProTools, Garage Band, or digital remastering.
In addition to four full-length releases under his own moniker, Swift has spent the past nine years indulging every facet of his creative ability. He's dabbled in film throughout, as well as developed some seriously diverse alter egos. As Onasis, Swift resembles a conductor more than a singer-songwriter, and under the name Instruments of Science and Technology he dishes out ambient electronica beats that are about as far removed from Swift material as you can get.
All in all, it's resulted in the release of seven LPs – not to mention a good deal of hype surrounding what Richard Swift will do next. This April, Swift will release The Atlantic Ocean, a retro-tinged gem of a record that picks up where 2007's Dressed Up for the Letdown left off – sort of.
"A lot of these songs came out of dreams that I was having at the time when I was writing the record," Swift explained of Atlantic Ocean. "I've always had a very active dream life, and so during this period a lot of my dreams had to do with the ocean and rooms filling with water and that sort of thing."
While he's reluctant to allude to the album's "nautical" theme, Swift is more than willing to recognize its uncharacteristically upbeat soundscapes. While "R.I.P." works as an eerie dirge on the inevitability of death, Swift maintains a buoyant attitude by way of pounding piano strokes. Meanwhile, the almost cartoonish start to "A Song for Milton Feher" gets a dose of reality by way of its stop-start breakdowns and poignant lyrics. All in all, it's an undeniable step away from Swift's self-described sad bastard repertoire.
"I mean, whatever, people go through shit," Swift lamented. "And I went through some serious shit, especially around The Novelist era : This record ended up being not as sad as some of my other records, I think. But then there's songs like 'Already Gone,' which is really a bummer; 'End of An Age' is sort of a bummer. It's going to be hard for me to escape that sort of stuff just because I think that those emotions and those feelings are just as valid as being in a good mood.
"This record is definitely kind of a sad record you can dance to," he continued. "I mean, that's what I love about that Plastic Ono Band record. Lennon is dealing with some serious shit on that record, and yet somehow there's a song like "Remember," which is pretty dance-y. A bomb goes off at the end of that song! I don't have any bombs going off at the end my songs yet. Give me a couple years and maybe that'll happen."
Like previous Swift releases, The Atlantic Ocean was recorded and mixed solely on analog devices, giving the album the antiquated feel Swift has come to be known for. But unlike past ventures, Ocean marks one of the first times Swift has brought in outside collaborators. In fact, the liner notes for "Ballad of Old What's His Name" read like a rock 'n' roll dream team, with notables like Ryan Adams, Mark Ronson, Sean Lennon, and Wilco's Pat Sanson all lending parts to the tune.
"Have you heard of that N.A.S.A. record? It's Spike Jonze's brother and some other professional skateboarder. The record boasts having like 40 collaborators," Swift laughed. "That just seems to me like they were stoned one night and were like, 'Hey man, what if we got everybody – like what if we got Kool Keith and Tom Waits on one track?' For me, I've always done my records by myself. I don't want to be precious about it, but it's just kind of like my thing.
"It's funny. I just figured like, 'Shit, man. If I'm going to actually step out of my normal pattern of doing stuff myself, I may as well go big,'" he continued. "Whether I make music with any of those people ever again, I don't know – we've definitely talked about it quite a bit. But if it's left to what it is, it's still a great funny strange story. It was a real whirlwind. We definitely had a good time that week, and I'll leave it at that."
What, if anything, this means for the many faces of Richard Swift, only time will tell. But from the sound of things, fans can rest assured that Swift's music-making life won't be slowing down anytime soon.
"For me, whether you're a solo artist or you're in a band, the whole idea is that you're focused on one singular thing in a way," Swift confessed. "The Onasis thing was a way for me to just kind of have a shitty rock 'n' roll band. With Instruments, that was just a way for me to create the ambient music and electronic music that I like. I'm the same guy. I know who I am. But we live in a day of brands and branding and all that bullshit. It was a way for me to be somewhat honest and say, 'All these projects are me, but they have different names because they're different types of music, and I understand that I can't be all these things at once to most people.'"
4•1•1
The show at Muddy Waters has been cancelled due to an illness in the band.