Kath Bloom began her career as an artist in the late 1970s and early 1980s, playing and recording in a New Haven loft called the Chapel Arts Center. At the start, her performances with avant-blues guitarist Loren MazzaCane Connors were largely improvised-MazzaCane's off-kilter acoustic guitar and low moaning vocals providing a bed on which Bloom's mercurial personality could alternately stretch out and explode. Her technique involved a constant inner quest, derived in part from the free improvisation movement, but also influenced by such diverse practices as abstract expressionism and the Stanislavsky method of acting. The shows were fierce, transfixing, and usually attended by half a dozen or so local college students (myself included). Looking back on the atmosphere and the music Bloom made at that time, the past inevitably seems a more earnest and simpler place.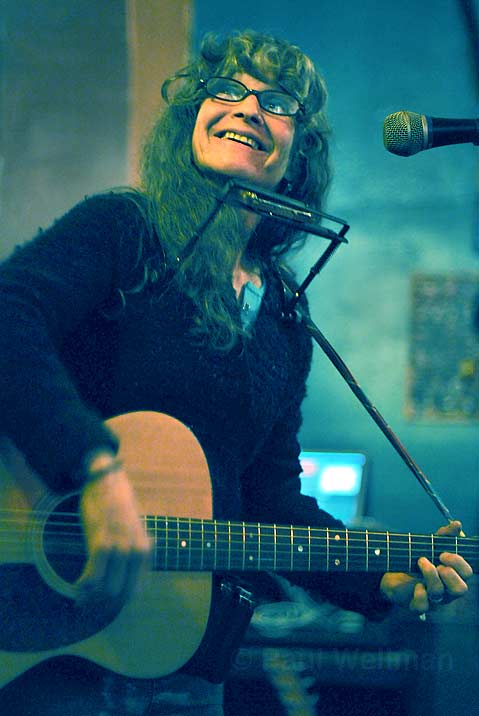 But for Bloom, the free improv era didn't last much longer. Increasingly influenced by her other collaborator in the Chapel Arts Center, Tom Hanford, Bloom began to explore folk music and picked up an acoustic guitar and harmonica. Writing simple songs that sounded like outtakes from Folkways' Anthology of American Folk Music, Bloom gradually evolved into an affecting singer/songwriter, while still remaining well outside anything remotely resembling the music industry. A small handful of DIY recordings were all that remained when Bloom took time out to raise her children, at least until one of her songs was included on the soundtrack to the Ethan Hawke film Before Sunrise.
Thursday night's concert at Muddy Waters stretched across Bloom's catalogue and served as a taste of what's to come when the two CD set, Loving Takes This Course: A Tribute to the Songs of Kath Bloom, will be released. Thursday's band was made up of Hanford, Bloom, and members of Little Wings, including Kyle Field and Lee Baggett, and the atmosphere at Muddy was loose and happy, buoyed by the relaxed and playful tone emanating from the makeshift bandstand. Songs (and the words to songs) were remembered and forgotten, sometimes within the space of a single number, but throughout, the independent light at the heart of Kath Bloom's music shone through.