Film & TV
Up from the Ashes
Tea Fire Documentary Screening to Benefit the Uninsured
Certain events transcend the power of words. There's no way, for example, to have a clue what it's like to have your house burn down until it actually happens. But there's no shortage of words on this subject in Tea Fire: Re-Birth, Craig Harris's documentary about the devastation wrought by the Tea Fire that tries to capture efforts of survivors to reclaim their lives, their homes, and most critically, their spirit of community. The movie's most eloquent moments, however, come when the speakers fall silent and the camera allows itself to linger on their faces. In these quiet moments, a sense of loss and exhaustion seeps to the surface, as well as the magnitude of the ordeal they face in rebuilding.
This is Harris's sixth documentary, but he provides no narrative context in which to frame the torrent of recollections and insights coming our way, in part because he was chastised for intruding in another documentarian's earlier efforts. As a result, this comes across a little raw and uncooked. But that's also because Harris was in such a hurry to get the film done, since victims fretted that the damage and rebuilding struggles would be soon forgotten. This film is designed to inoculate Santa Barbarians from the post-traumatic amnesia that too frequently follows natural disasters. Plus, proceeds of the March 16 premiere will be donated to those Tea Fire survivors unfortunate enough to have no insurance.
In many ways, Tea Fire: Re-Birth is an undeclared love song to the Mountain Drive community, a group imbued with a pagan spirit of celebratory improvisation long before the hippie movement of the 1960s ever asserted itself. I say "undeclared" because Harris-out of deference to another filmmaker working on his own documentary about Mountain Drive-addresses the defining traditions of this community only indirectly. But it's hardly a coincidence that almost everyone interviewed for this film hailed from Mountain Drive. Harris demonstrated what that sense of "community"-certainly one of the most abused phrases in the English language-actually means in times of urgent calamity. On Mountain Drive, it translated, vividly and heroically, into neighbor helping neighbor. Elsewhere perhaps, it might well have been "every man for himself" and-to steal a line from filmmaker Werner Herzog-"God against all."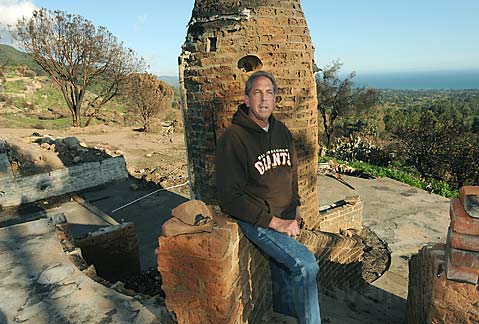 Two snippets stand out. In one interview, we hear from an L.A.-based attorney who specializes in fire-based litigation against insurance companies. Looking very much like "cigarette man" from The X-Files, he noted that many residents had million-dollar homes but only $400,000 worth of fire insurance. Because of this, he warned that many will not have the funds needed to rebuild anything approximating their former dwelling-but they'll still have to pay the same mortgage. By next fall, this could mean widespread economic devastation. The other features State Insurance Commissioner Steve Poizner, who came in the aftermath of the Tea Fire to re-assure survivors. In the past two years, Poizner noted that California has lost no less than 3,500 homes to wildfires-a staggering number. The good news, supposedly, is that Californians are learning the hard way how to rebuild and how not to.
Whether Mountain Drive can rebuild-and into what-still remains to be seen. While the community is willing, modern fire codes and stricter zoning laws will not allow the abundant hodge-podge of illegal sheds, shacks, and homes that sprang up over the years without permits. How all this shakes out will take time. And Harris is committed to making the longer haul. To that end, he's currently following three families as they inch-worm their way through the rebuilding process. The real story of the Tea Fire, he said, won't be over until these families move back into their homes, sit down at their new kitchen tables, and brew their first pots of coffee. When that happens, Harris intends to be there with them, sipping coffee and rolling the film.
4•1•1
Tea Fire: Re-Birth screens on Monday, March 16, 7 p.m., at the Marjorie Luke Theatre. It's free for fire survivors, but a $15 donation for others will go to helping the uninisured. Call 701-1180 for info.