Dance
Alvin Ailey American Dance Theater at the Arlington Theater March 10 and 11
Company Celebrates 50 Years with Two Nights in Santa Barbara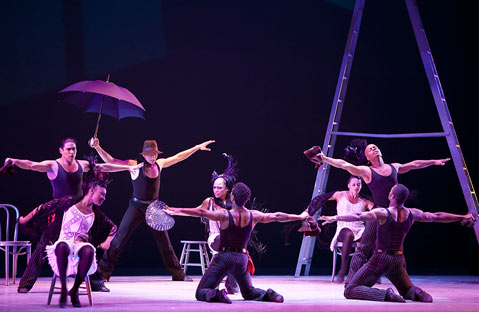 A half-century after its New York City debut, Alvin Ailey's "Revelations" continues to bring audiences to their feet the world over. We respond to it as to the victory of our team in the playoffs, or the election of the politician we always hoped would make it. "Revelations" closed both programs at the Arlington last week in a signature stamp that has become the company rule rather than the exception. Perhaps more than any other single work of art, this dance has come to stand as a symbol of the black American experience, and today more than ever in its 50-year history, it resonates with the thrill of deliverance.
Tuesday's program gave Santa Barbara audiences a picture of Ailey's early years, with the choreographer's first work, "Blues Suite," followed by George Faison's "Suite Otis." In the former, Ailey brought the music and the characters of Harlem dance halls onto the proscenium stage for the first time, with girls in flapper dresses parading like peacocks and men with arms pumping like pistons, all shot through with a spirit of rebellion. Faison's work from 1971 covers the emotional extremes, ranging from grief (a widowed woman) to hysteria (four screaming girls hurling themselves at their men). The subject matter is very much of this world, and yet in these works the dancers are so buoyant that were they to take flight, we'd hardly blink an eye.
In contrast, Wednesday's show consisted of Mauro Bigonzetti's "Festa Barocca," choreographed on the company last year, and Hans van Manen's celebrated "Solo" from 1997. Bigonzetti's hour-long surreal Italianate carnival was set up with promise to the music of Georg Frideric Handel, with male and female dancers in bright satin, and full floor-length skirts designed by Marc Happel. But "Festa Barocca" was a disappointment, full of gestural sequences that lead to dead ends.
The crisp, no frills "Solo" came as a relief, but while Ailey dancers can pull off any choreography and look resplendent, van Manen's work is too restrained for them. In this program in particular, "Revelations" came like a drink of cool water after a long thirst, soothing us back into the memory of why we had come, after all.