News
Carp Water Getting Even Pricier
Customers Seek New Solutions as Debt Remedies Fall Through
As it is, most people in Carpinteria – a community of 15,000 known for laid back beach town culture – are not pleased about how much they have to pay for water. Some Carpinteria Water District customers aver that they pay the highest rates in the country, a claim General Manager Charles Hamilton denies, although he conceded that his district has "among the highest rates in the Santa Barbara area." As Hamilton and the district's Board of Directors struggle to manage a debt that, including interest, amounts to nearly $100 million, customers watch helplessly as their rates creep ever higher.
About a dozen residents showed up at the Carpinteria Water Board's budget meeting yesterday afternoon, March 25, with questions and concerns about water rates. "You're just sagging under massive debt," Ann Bardach said to the board. "As a person who doesn't use financing or personal credit cards-you just don't use what you don't have." She suggested, along with others in the room, that the district consider filing for bankruptcy. "I don't have the answer, but it looks like it's going to get worse and worse and worse."
Board members chimed in, saying that capital improvements – namely a three-million-gallon storage tank and covers for the Carpinteria and Ortega reservoirs – that were necessary to meet state and federal water quality standards have been major culprits in causing high service charges, but one of the most significant factors appears to be the district's debt to the State Water Project. When a former board voted in 1991 to buy state water, their projections for growth in the area were much higher than what actually played out, leaving a relatively small number of people to shoulder a rather large debt. The board has sought ways to sell off water entitlements they don't need – which would transfer a portion of the debt onto someone else's books – but have been largely unsuccessful.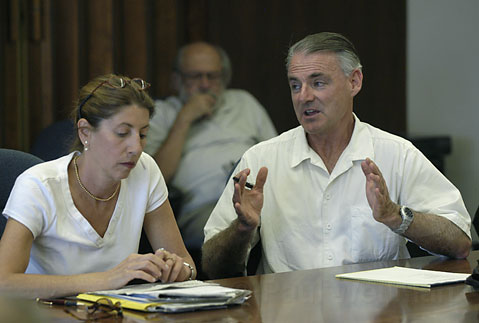 An agreement with the oil company PXP – which planned to develop land in Lompoc – brought the district $300,000 per year in revenue so that the developer could hold on to an option for water rights pending actual construction. PXP had struck a deal with environmental groups to support the company's increased offshore drilling in exchange for, among other things, PXP's donating the Lompoc land for conservation easement. But the State Lands Commission nixed that deal, saying new drilling was not allowed. The Carpinteria Water District may yet be able to reap the benefits of water sales to PXP should the company opt to develop.
There were also negotiations to sell water to UCSB and to the City of Guadalupe, but UCSB has apparently found another source, and development planned for Guadalupe was axed when the housing market tanked.
Board members cited Zaca Fire silt deposits in Lake Cachuma – their main water supply – as a major expense. Already on the hook for $480,000 for sediment removal and increased filtration, they said that although the Governor's Office of Emergency Services is supposed to reimburse them for 75 percent of the cost, they have not yet seen any money from the state and don't want to count on it as part of their budget.
With expenditures in an already strained budget set to increase by another one percent – resulting in bills 2 to 3 percent higher – some customers at this week's meeting called for a moratorium on construction – required or not – until fiscal stresses are addressed. Other suggestions offered included economical individual filtration systems located at peoples' homes, and desalinization. "I encourage any and all to come out and offer ideas," said board president Frederick Lemere.
Among the exasperated customers in attendance at the meeting was Dave Morris, who grows persimmon trees on Shepherd's Mesa. With the extra pumping costs to get water to his elevated location, Morris feels pretty confident that he pays more for water than anyone in else in the country. Even as an agricultural customer-agricultural customers get a break on rates-he pays up to $250 per month to water his trees during the summer months. Residential customers reported paying much more; up to $350 per month in some cases. "In a crisis situation, I think we should look locally for solutions," said Dr. John Zemjanis, one of the disgruntled customers. "There may come a time that people are so pissed off that they won't pay the bill."