Sports
Ultimate Boarder Jumps from Snow to Surf
The Second Annual Board Sport Triathlon Hits C-Street in Ventura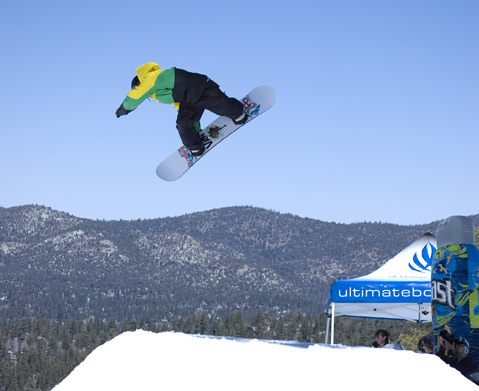 After a weekend in the snow high above the Los Angeles basin, the 2nd Annual Ultimate Boarder competition is back in the 805 this week for the second and third legs of the weeklong board sport triathlon. Pitting athletes against one another in the holy trinity of board sports, riders take to the surf, snow, and slick surface of a vertical skate ramp in hopes of becoming the undisputed king of boardsports and, of course, taking home a fat slice of a nearly $60,000 prize purse. With the big air and big slams of the slopestyle snowboarding competition safely in the rearview mirror, some of the biggest names from surfing, skateboarding, and snowboarding – think Tom Curren, Todd Richards, and Omar Hassan – will be trading in their parkas for wetsuits on Wednesday morning, April 8, and hitting the surf at Ventura's C-Street. Then they'll be strapping on skate shoes later in the week and tackling a custom mini-ramp at the Ventura County Fairgrounds for the final day of competition on April 11, which also will feature a day-long, family-friendly party for the public.
Held at Big Bear on April 4 and 5, the snowboard portion of the stoke sport trifecta saw pro snow slider Kurt Wastell finish first and New Jersey's Shane Pospisil (the only guy to get a legitimate tube ride in last year's Ultimate Boarder) come in second. But the real surprise was skateboarder Chad Shetler, who turned more than a few heads by getting on the podium in third place.
By forcing competitors to compete in all three board sport disciplines rather than just the one that he or she does best, the Ultimate Board competition – conceived of and run by Goleta's Tim Hoover – gets athletes out of their comfort zones and into a grueling, often humbling, athletic fight for bragging rights. In that vein, last weekend's Big Bear bash – complete with a 45-foot kicker, a hodge-podge of rails, boxes, and hips, and a monster super pipe at the bottom of the run – was a bruising experience for some of the less snow-experienced board riders. Other notable finishes in the snow include defending Ultimate Boarder champ Aaron Astorga in 8th (he placed 17th in the snow last year and ended up winning the overall comp), Omar Hassan in 10th, skateboarder Lindsay Adams-Hawkins placing 16th, and aerial surf pioneer Christian Fletcher in 22nd.
The surfing gets underway at 8 a.m. on April 8 at the top of the point at Ventura's C-Street. Besides the aforementioned names, former world champ Shaun Tomson, local standout Killian Garland, and Central Coast ripper Robert Curtis are also taking part in the event either as individual competitors or as a part of this years new wrinkle: the team competition. The latter – which allows a team to send a different competitor to participate in each event thus maximizing their performance potential (i.e., surfers only surf, and skaters only skate) – is currently being led by Team Hosoi thanks to a first place team finish by snowboard phenom Bjorn Leines. With Santa Barbara-raised surf god Tom Curren holding down the surf leg for Team Hosoi and team namesake Christian Hosoi doing the skateboarding, other teams, such as Bravo Condoms, Team Old School (with Tomson and Steve Caballero), and Trilogy Arts, have their work cut out for them if they want to stand atop the podium this weekend.
For more info, see ultimateboarder.com. To watch the event live online, see reelcomp.com.