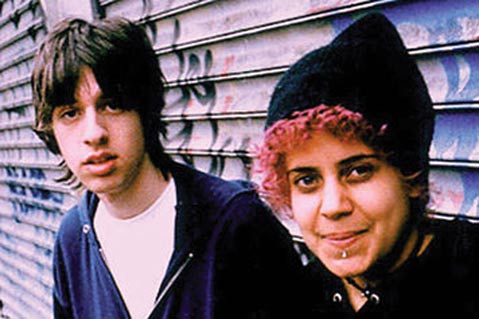 ONE SWEET PEACH: While Sonic Youth fans might not have liked the disservice done unto them by the writers behind Juno, those of us with a soft spot for the Moldy Peaches were too busy rejoicing to care. You see, not long after starting preproduction on the indie flick that would go on to launch the careers of both Michael Cera and Ellen Page, filmmaker (and S.B. local) Jason Reitman made a mighty important phone call. The young lady on the end of the line: Kimya Dawson. And the result of their meeting: pure soundtrack gold.
As one half of the MPs, Dawson plays quirky right-hand woman to anti-folkster Adam Green's syrupy vocals. And going solo (mostly) for the Juno soundtrack, Dawson proved to the world that she could do just fine on her own. Her childlike vocals weaved their way in and out of the majority of the movie's scenes, acting as a sort of musical monologue for Page's Juno. And the resulting album somehow managed to make Dawson's eccentric and off-kilter brand of music mainstream fare. Luckily for us, the fame hasn't gone to her head, as Dawson is still playing house shows and headlining at the Biko Co-Op Garage (6612 Sueno Rd.) this Wednesday, April 15.
Starting at 8 p.m., the tiny-by-comparison Isla Vista showspace, in conjuncture with SBDIY, will open its doors to kids of all ages for a very special (and alcohol-free) event. The lineup (Dawson, Watercolor Paintings, Omnivore, and Liz Isenberg) reads like a lo-fi lover's dream concert, and the setting could not be more intimate. And for those who have never partaken in an I.V. show, this is most definitely the time and the place to get your feet wet. For more info, visit sbdiy.org.
PLEASANT SURPRISES: While I never did dig up the dirt on why Ona called it quits not too long after their gig at 2007's West Beach Music Festival, I will say I'm delighted to see what they've been up to. After more than a year of hard work, grassroots promoting, and a few under-the-radar live shows, Omar Cowan, Shane McKillop, and Justin Flint are finally ready to unleash the sounds of the Omar Cowan Band on the masses. This Tuesday, April 14, at SOhO (1221 State St.), the former Ona-ites (with guitarist Dusty Ineman) will take downtown by storm with their new tunes starting at 8 p.m. But don't expect a rehashing of the rock these kids were dishing up two years ago. The new arrangements are cleaner, tighter, and way more pop friendly. (Think Maroon 5, plus some alt-leaning tendencies and minus the whiny nasal frontman.)
Also on hand for the evening will be a very special guest who's being billed only as the "Austin Beebe Band" on SOhO's April calendar. For those in the know, it's no joke. And for those feeling a wee bit out of the loop, I highly advise a trip down to Victoria Court this Tuesday night. I have no doubt this is going to be one rock show that folks will be talking about for months to come. For ticket info, call 962-7776 or visit sohosb.com. And for more on the band, visit myspace.com/omarcowanband.
CATCH AND RELEASE: And if all this pre-Coachella hoopla still has you begging for more, head on down to Muddy Waters Cafe (508 E. Haley St.) this Sunday, April 12, for a super special triple bill featuring S.B.'s Grover Anderson and Jaret Campisi, as well as L.A.'s Makepeace Brothers. The event is also doubling as a celebration for the release of Anderson's new album, Innocent Insinuations, and promises an evening of acoustic excellence that calls to mind the likes of Jason Mraz, Jack Johnson, and that inescapable folkie, Bob Dylan. The party starts at 8 p.m. and CDs will be available for purchase. Call 966-9328 or visit myspace.com/muddycafesb for details.