News
Gaviota, the Gone Land?
Naples Not the Only Threat to Coast
Bumper stickers may call Goleta "The Good Land," but Gaviota is the great land. The beautiful, largely undeveloped coastal slice of heaven, wedged west of Goleta and east of Point Conception, is a world-class breath of fresh air. The approximately 31,000-acre Gaviota Coast, sandwiched between Los Padres National Forest and the Santa Barbara Channel, is more than just a crown jewel of the South Coast; it is an internationally celebrated bastion of biodiversity, a vital North American wildlife corridor, and a near-extinct reminder of how Southern California once looked. And according to the folks from Santa Barbara County's Planning department, all manner of development projects are in the works for nearly 30 percent of the region.
The most famous projects is, of course, Matt Osgood's 72-mansion plan for the historic Santa Barbara Ranch, aka Naples. Orange County transplant Osgood has been running the project approval gauntlet for a decade now and, despite gaining a narrow vote of support from the Santa Barbara County Board of Supervisors last fall, is currently bogged down in one of the most confusing chapters to date. Consequently, he is slated to return to the supes in early May for further discussions of where his Naples vision is headed. Thought it may be the hottest potato in Gaviota's development patch, Naples is hardly the only meal cooking.
In a Santa Barbara County courtroom last week, Judge Thomas Anderle ruled on behalf of the Gaviota Coastal Conservancy and against development. Summed up by conservancy lawyer Marc Chytilo as "the first substantial decision in support of the Gaviota Coast that we have seen in quite some time," Anderle ruled that the Ballentyne residence-a 15,000-square-foot home approved by the supes last year despite the reservations of county staff, Planning Commissioners, and the Board of Architectural Review-would need a full Environmental Impact Report (EIR) before it could legally be approved and that the county violated terms of its own General Plan in green-lighting the project last year. While Chytilo was happy with the ruling, it was the latter part that gave him and other like-minded Gaviota preservationists the most joy because it validates what they spent the past four years bemoaning at the Board of Supervisors: that the five-member board-with Brooks Firestone representing the 3rd District, which includes Gaviota-was a politically motivated, pro-development majority.
Then, this week, also in Anderle's courtroom, the Gaviota Coast Conservancy and the Surfrider Foundation won their second major battle against the build-out of open space when Anderle voided a recent controversial annexation of quintessential Gaviota land into the Goleta Water District (GWD). Locally famous for being the spot just west of the Bacara where a golf course wasn't built in the late 1990s due to the last-minute discovery of endangered red-legged frogs, the 208-acre Makar property (formerly owned by Arco Oil & Gas) has been inching toward residential development in recent years. With two parcels south of Highway 101 already in the EIR process-both sites are hoped to eventually be home to mansion-esque single-family homes complete with guest houses, garages, and pool cabanas-and 25 legally recognized antiquated Naples lots at the western edge of its holdings, Makar had been trying to power play a nearly 11-year-old annexation approval by the Local Agency Formation Commission (LAFCO) to get its land into the GWD and, in turn, get essential water supply for their hopeful project sites. LAFCO approved the annexation in 1998 based on the golf course plan-something that had a much different set of water needs-and the condition that Makar would merge its Naples lots in such a way that future residential development was greatly reduced.
Derailed by the frog discovery, Makar never actually merged the lots and thus the annexation into the GWD never transpired despite several years' worth of extensions filed-that is, until last summer. Makar, now committed to houses and garages instead of fairways and greens, began putting the squeeze on the GWD and LAFCO to make those old promises come true.
Despite cries of foul from the public, LAFCO did just that last summer and annexed the remaining 130 acres into the water district without forcing the lot mergers, effectively opening the door for development on the historical agriculture land. (Roughly 80 acres of Makar's property already lies within GWD boundaries, it should be noted.)
This Tuesday, responding to a lawsuit filed by the Gaviota Conservancy and Surfrider, Anderle ruled that not only was the annexation illegal because it was providing water for an entirely different form of project but it was also ill-advised because the original approved annexation had expired in 2005. This came as good news for these groups, their supporters, and lovers of open space, but it should be noted that Makar is not out of options. Among other things, Matt Osgood's neighboring Naples plan could, if ever realized, potentially provide all the water Makar needs for residential development.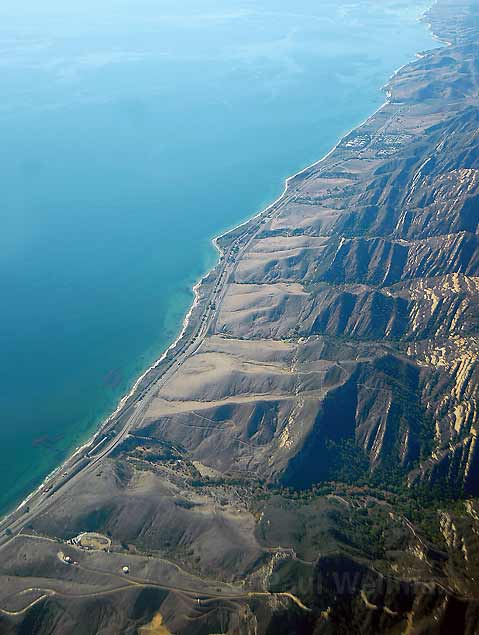 Moving west from Naples, beyond the Schulte family's Dos Pueblos Ranch (which stands to enjoy a handful of residence-inducing lot mergers as part of Osgood's plan), the next hotspot is the 1,800-acre Las Varas Ranch. Currently undergoing an EIR, the coastal property is looking to merge existing lots and establish seven building envelopes on the largely agricultural property in the name of monetarily motivated estate planning. And with the Doheny family patriarch passing away this month, the impetus for the reconfiguration is at an all-time high. Also spurred by estate-planning sensibilities is proposed rezoning and refiguring of nearby Eagle Canyon Ranch. More than 1,000 acres, the Parsons family's longtime ag operation east of Naples is looking to merge seven lots into four new ones and establish a residential envelope on each one.
Continuing across the highway from the west end of Las Varas is the El Capitan Horse Ranch. Long owned and operated in association with El Capitan Canyon and campground, the horse ranch has mutated since being acquired by Jon Peters a few years back. Though the ranch is still in the horse business, the Peters era has ushered in a more gated and private incarnation, complete with reportedly unpermitted grading and various construction efforts. These matters are awaiting review by county staff.
Mountainside of the state beach, El Capitan Canyon is looking to further build out its high-end campground with an expansion into the terrace above the llama pastures visible from Highway 101. Though recently deemed inadequate by county staff, the plan aimed to put about 40 more campsites in the hills while also retrofitting a 5,000-square-foot warehouse to become a general store of sorts.
"The economics of the area are well beyond Farmer John and his lima beans," Lunsford said. "The price of this land is so high you have to get pretty creative if you want to keep it rural."
The next major blip on the Gaviota development radar is the Maz property, aka Rancho Tajiguas. The former site of the ill-fated Sunburst Farm commune, the 3,600-acre holding has one project approved-a 13,800-square-foot home known as Lot H-and 23 other buildable lots, including one with plans slated to come to the supervisors for final approval this spring. However, working with the Gaviota Coastal Conservancy (GCC), the Maz group has so far been able to suggest projects that have appeased conservationists. Mike Lunsford, GCC executive director, said the Lot H residential project will receive his organization's public support. Furthermore, Lunsford is hopeful that the unlikely collaboration will continue and that a compromise for the rest of the property will be achieved. "The economics of the area are well beyond Farmer John and his lima beans," Lunsford said. "The price of this land is so high you have to get pretty creative if you want to keep it rural."
Beyond Maz is the nearly 3,500-acre Brinkman property. Currently for sale, the parcel, sandwiched between Gaviota State Park and a Land Trust for Santa Barbara County holding, is ripe for a large-scale conservation easement, the development of its several lots, or some combination of the two.
Farther west is the heavily fortified Hollister Ranch, which, despite its reputation as being a bubble of pristine California, is undoubtedly the most densely populated area in Gaviota. Rarely ever seen, let alone enjoyed by the public, the ranch subjects projects to intense homeÂ-owner association review in addition to the usual county approval process. That being said, one land-use watchdog admitted recently, "We probably don't pay as much attention out there as we should. I mean, there is just some stuff that gets built out there that would have people up in arms if it happened anywhere else on the Gaviota Coast."
Last but not least, is the 24,000-acre huge Bixby-Cojo Ranch. Home to Point Conception, numerous Vandenberg Air Force holdings, and countless Chumash sites, the historic ranch was purchased for $136 million in early 2007 by a Massachusetts-based investment group Baupost Inc. Despite current and consistent rumors to the contrary, the new owners promised at the time of purchase that they had no immediate resale or development designs.
And, according to Baupost's local representative, Steve Amerikaner, that position hasn't necessarily changed. "We are still trying to get a good grasp of what is actually on the ground out there in terms of legal lots and practically buildable sites," he explained, before adding that Baupost had no immediate plans to apply for any sort of development or lot line adjustments with the County.
Aware of the wide-ranging development plans throughout Gaviota, the new incarnation of the Board of Supervisors-with known Gaviota advocate Doreen Farr having replaced Firestone in the 3rd District seat-voted in March to make a top priority of developing a Gaviota Rural Plan that would outline the region's growth-related needs, concerns, and characteristics. No such big-picture plan has ever been created for Gaviota, its future having been steered by the county's General Plan, its Coastal Land Use Plan (which hasn't been updated in 26 years), and a healthy amount of politics. While the decision was certainly a welcome turn of events for people who would prefer to keep Gaviota as it is, it remains to be seen when and how the plan will come to fruition.
As Marc Chytilo put it this week, "[The vote] could easily just drop into the black hole of long-range planning and not come out for years." And then, referencing the long list of building projects and development-inducing lot line adjustments currently in the works, the lawyer added, "Clearly, Gaviota can't afford to wait that long."