Dance
Everybody Dance Now! Troupe to Perform at Earl Warren
Youngsters Perfect Their Moves for Upcoming S.B. Fair & Expo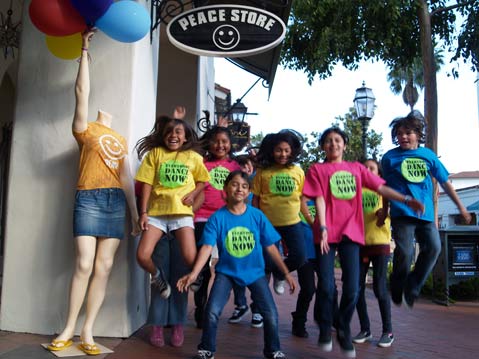 S.B.'s own Everybody Dance Now! (EDN!) is a nonprofit organization offering free dance classes to 125 underserved kids per week at eight sites throughout Santa Barbara and Goleta. This unique project was started in 2005 by then 14-year-old dancer Jackie Rotman. Since then, Rotman's grown up and enrolled in Stanford University, and Alina Wattenberg has stepped up to help out. A junior at Laguna Blanca with a strong background in ballet, Wattenberg took on the role of codirector more than a year ago as Rotman prepared to leave for college.
"I'd heard about Jackie and what she was doing with EDN!," Wattenberg recalled. "We definitely share a passion for dance and ideas about how it can help kids, so it's great to work together."
The group's newest project is a performance troupe, also called Everybody Dance Now!, that consists of 15 girls and boys from grades 4 through 7, most of whom have never taken dance classes outside of EDN!. "Now, we have a chance to take our top students from each class, the ones who are truly dedicated and talented, and bring them together in this troupe," said Rotman. "They can continue dancing at a higher level and also connect with kids from other schools who love dance."
Kari Goldbaum, a UCSB senior dance major, was teaching EDN! classes when rumors starting swirling last year about the new troupe and its need for a manager. "[Jackie and Alina] know how much I adore teaching kids to dance," she said, "especially the ones who aren't exactly sure how good they are. They just know they love to dance and want to do it." You can see Everybody Dance Now! perform at the Earl Warren Showgrounds on Friday, April 24, 4:30 p.m. as part of the SB Fair & Expo. Call 687-0766 or visit sbfairandexpo.com for details. Below, Goldbaum gives us three reasons why you should check out her students' moves for yourself.
1) Reward Hard Work: "These kids have worked so, so hard. They don't mess around in class or rehearsal, and that's two hours every Sunday. They just want to dance."
2) Live Vicariously: "As we get older, we become perfectionists and start to pick ourselves apart. These kids are so open to trying things, to doing what feels good and playing with the music. It's good to remember what it felt like to be that way as a kid."
3) It's An Easy Way to Support the Arts: "This is much more affordable than a $50 ticket to a ballet, plus it's a way to support the arts in your own heart, by taking a stand for creativity and happiness."