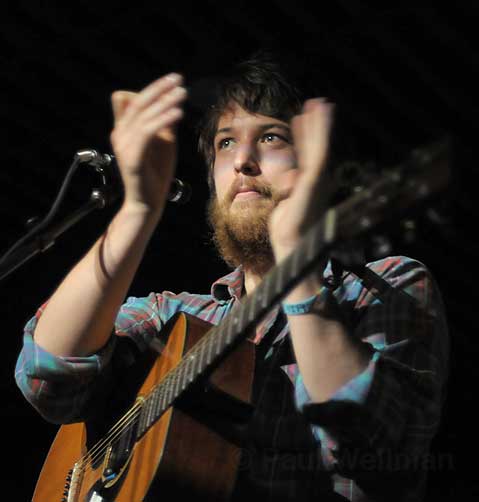 A word to the wise: When attending a concert at UCSB, pack light. This past Monday, Associated Students (A.S.) Program Board scored some serious indie rock cred by playing host to the dazzling double header of Blitzen Trapper and Fleet Foxes at the Hub. Sadly, the extensive pre-show pat down routine held about half of the crowd outside the venue for most of the opening set.
Security issues aside, the post-Coachella coup was nothing short of a triumph for A.S.-not to mention a sonic score for those lucky enough to snag a ticket. The Portland-based Blitzen Trapper started things off strong with a multitude of cuts off their 2008 LP, Furr. Together with guitarist/melodica-dabbler Marty Marquis, frontman Eric Earley harmonized through funky ("Saturday Nite"), folksy ("Lady on the Water"), and hard rocking ("Love U") tunes despite the still growing crowd, and undoubtedly won over a few new fans in the process. The set's crowning moment, though, came by way of "Not Your Lover," a stripped-down ditty that allowed Earley to show off his vocal chops against some early Elton-inspired piano and harmonica.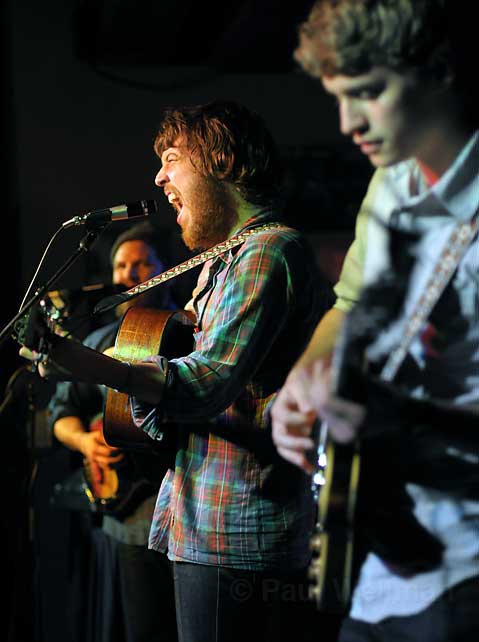 A little after 10 p.m., Fleet Foxes took to the stage and quickly floored the audience with the a capella opener to their 2008 EP, Sun Giant. Keeping time against his acoustic, frontman Robin Pecknold delivered leads on a dazzling two-minute-long harmonization that segued almost seamlessly into the slow build of "Crowns in the River." The smooth transition quickly became a driving theme in the band's set, connecting one folksy hymnal to the next while allowing the fivesome room for a few impromptu orchestrations.
In between tunes, the fellas did not fail to take note of their converted food court backdrop, at one point joking, "I see a couple people by Panda Express-are you okay?" Throughout the show, the band's lighthearted banter drove home the intimate nature of the evening, something no doubt helped along by their lush, room-filling harmonizing.
The mid-set cooldown came when Pecknold decided to go it alone with his acoustic, beautifully belting out "Oliver James" and "Innocent Son" to a sea of rapt fans. The meat of the set closed with the slow building "Mykonos," then got an awe-inspiring restart by way of Pecknold's encore-opening cover of "Katie Cruel." Standing solo on the stage's end, the singer decided to forgo the mike and belt the traditional ditty straight to his audience. The result was something like watching a minstrel busk in a courtyard, and served to highlight just how strong and emotionally wrought Pecknold's voice is.
To call Foxes' show meticulous would be an understatement, as they collectively never missed a beat. Still, the band's sheer talent and camaraderie kept things from ever feeling even close to rehearsed. The bottom line: These are five guys making inventive, thought provoking, and hopeful music. And five years from now, we'll be able to look back and note just how lucky we were to catch them in a heavily guarded food court.