Arts & Entertainment
Mike Doughty Plays Solo at SOhO
The Question Jar Show Comes to Santa Barbara Audiences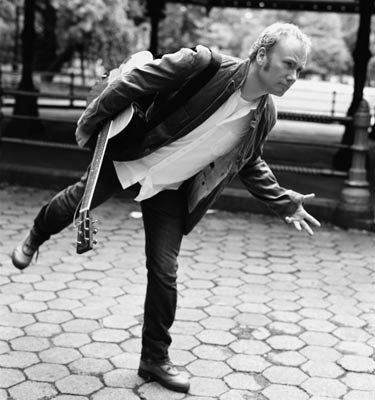 At a time when every Joe and Jane Crackerjack is Twittering away their life to an eager public, it's not necessarily remarkable that singer/songwriter Mike Doughty would also be broadcasting his words to the online world. However, his decision to offer himself for inspection and dissection-through his blog, his Twitter account, and the occasional column for the Huffington Post-stands out because Doughty formerly fronted '90s band Soul Coughing. Even the more radio-friendly selections from Doughty's Soul Coughing days defy interpretation, so it's noteworthy that the man who wrote the lyrics to "Super Bon Bon" and "Circles"-as well as a whole catalogue of surreal and enticingly strange songs beloved by Doughty disciples-would grant access to his mind's inner workings.
Of course, Doughty has been performing as a solo artist for years, composing new songs, preserving his poetic flair and lyrical depth, and allowing his meaning to ring through a bit more clearly. He's reached new audiences, too. His phenomenal "I Hear the Bells," for example, was featured on both Veronica Mars and Grey's Anatomy, giving those TV shows' fervent fan bases a chance become familiar with the raspy-voiced man whose lyrics eloquently compare those titular bells to "emeralds," "glints in the night," and "commas and ampersands." Doughty's current tour-a San Diego-to-Seattle jaunt during the first two weeks of May-aims to share his sound with the Western Seaboard, yet also emphasize his status as an artist who's keener on a dialogue with fans than many of his guitar-toting colleagues.
Case in point: He dubbed the tour The Question Jar Show. Throughout, audiences will be encouraged to write questions on slips of paper that Doughty will then respond to onstage. "It's a way of making the talking onstage a little more spontaneous," Doughty explained, noting that people usually ask questions anyway-by yelling, often from within a crowded venue. This makes the exchange easier. "I guess it's sort of bridging the kind of commentary world of my blogging and other writing with the musical world of my songs," he said. And he's right. (Think Twitter unplugged.) A caution to those planning to attend his May 7 show at SOhO, however: Don't think of it as a medium to request songs. "Those rarely get fulfilled," he said, with old Soul Coughing hits especially unlikely to fit into a given show's setlist. "But I'm taking questions-on any topic. The weirder the better." And in what some might consider a challenge to Santa Barbara's concert-going public, Doughty won't worry about what might get thrown at him. "How bad could they possibly be?" he asked of the Question Jar's contents.
You have to admit: He has balls. Performing onstage becomes an even riskier proposition when it potentially includes the participation of any drunken idiot able to put pen to paper. But Doughty meets the challenges head on. In addition to successfully developing a full-fledged, post-Soul Coughing persona as a solo artist, he's now declared his intentions to branch out in yet another direction: a dance album. While Sad Man, Happy Man, his follow-up album to 2008's Golden Delicious, is currently in the mixing stages-a sneak preview of some new material wouldn't be out of the question come Thursday, Doughty said-he has also begun work on what he's calling Dubious Luxury, though he's not yet sure whether that will be the name of the album or the side project itself. "This is just a bunch of stored-up ideas," Doughty explained. "I'm pretty much outside the world of dance music. I really enjoyed electroclash like eight or nine years ago, but that was the last time I had an active involvement in [the dance genre]." Doughty called the dance project "a sampled vocals record," but shied away from pinning it down further at this point in the creative process. ("It's a happy situation where I don't really know what's going on out there," he said.) He also noted that the legality of one sample or another might morph the released product into something different than what he currently envisions. Those awaiting this unexpected evolution, of course, can keep plenty occupied with Sad Man, Happy Man, which Doughty referred to as being a mostly "straight down the alley" acoustic guitar album with a hopeful release date of "sooner rather than later."
So questions remain about the exact path his future projects will take, what nutball things audiences will ask during this tour, and what minutiae shall constitute the life of Mike Doughty. No worries. Remember that aside from old-fashioned news outlets like this here weekly paper, anyone who wants to hear the latest about Doughty's work can simply follow his blog or Twitter account and read the answers first-hand, straight from the master-musical-wordsmith himself. We in Santa Barbara, however, happen to be lucky enough to hear Doughty's music live as well. He's putting it all out there, through one medium or another, and lovers of finely composed words and music owe it to themselves to take advantage.
4•1•1
This show has been canceled due to the Jesusita Fire. For information, call 962-7776 or visit clubmercy.com.