News
Underage and Under the Influence
County May Pass a Social Host Ordinance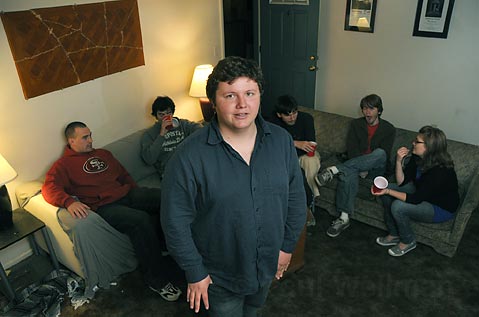 The county's proposed Social Host Ordinance aims to identify and punish people who throw parties where underage drinking takes place. While the Board of Supervisors is scheduled to discuss this proposal on Tuesday, May 5, the conversation will likely differ from those held by other governmental bodies that have implemented such rules. Most are developed to prevent high school students from drinking alcohol, usually at gatherings where irresponsible parents have permitted free-flowing booze in their homes. Critics of the County of Santa Barbara's proposal, however, claim this particular law is targeted directly at the college community of Isla Vista, adjacent to UCSB.
"This is directed at I.V.-one hundred and ten percent," said Bruce Murdock, board member of the Isla Vista Recreation and Park District.
For their part, county officials are promoting the ordinance as a countywide measure to address a serious health and behavioral problem in modern society. Alcohol is the drug of choice for today's youth, and drinking is a significant factor in teen car accidents and teen suicide, and it is linked to as many as two-thirds of all sexual assaults.
Whether or not the law is inspired by Isla Vista, no one is denying that underage drinking can get out of control in the densely populated area. Take, for instance, the recent Floatopia event that left beer bottles and other trash strewn along the beach and during which a dozen intoxicated people cut their feet and cracked their heads.
Politically, the Social Host proposal has put 3rd District Supervisor Doreen Farr in a sticky spot. Young people living in Isla Vista undoubtedly helped her get elected, and many student activists are calling on her to protect their civil liberties. (The ordinance was sponsored by Supervisors Salud Carbajal and Joni Gray before Farr joined the board. The powerful nonprofit Council on Alcoholism and Drug Abuse has been pushing for such a law for years.)
Patrick Donahoe is one of many concerned students. Like the park board's Murdock, Donahoe believes the Isla Vista Foot Patrol, part of the Sheriff's Department, can control parties through the so-called nuisance ordinance, already on the books. Deputies can enter a party if they see a keg from the street, or observe someone urinating in public, fighting, body-slamming, or lighting a fire-or if someone appears to be a minor in possession of alcohol.
"If there's someone urinating, with a beer in one hand and a match in the other, the police should get involved." – Patrick Donahoe
"I agree they should stop that kind of unruly party," said Donahoe, communications director of UCSB's Campus Democrats. "If there's someone urinating, with a beer in one hand and a match in the other, the police should get involved." He remains concerned that the ordinance defines a party as five or more people when most I.V. apartments or houses are shared by at least that many bodies.
Isla Vista landlords can relax as a newly released version of the ordinance does not hold property owners responsible for underage partying, as an earlier version did. At a February town hall meeting in Isla Vista-the only public workshop on the issue-prominent attorney and landlord Chuck Eckert voiced his opposition, and apparently was heard. Eckert is the president of the Santa Barbara Rental Property Association.
The latest draft says if the property is a rental, then the renter is deemed the party "host." Other controversial provisions were dropped. The county is no longer seeking to recover "response costs" from the offender. Those costs would have included the officers' salaries, benefits, car maintenance, and office overhead.
Still, monetary consequences remain. A first-time offense comes with a penalty of $250; a second $500; the third $1,000. If the first-time offender enrolls in an alcohol education class, the fee is waived. The second-time offender can get $250 of the $500 waived if he enrolls in a program. There's no opportunity to reduce the $1,000 fee. Citations can be appealed.
Donahoe, who is organizing car-pooling of students to the board hearing next week, said he still has questions: Who will serve as the county's hearing examiner, the person to rule on appeals? If five people are deemed the party hosts, will all of them be fined $250? Where will the fine revenue go? How much will the alcohol education classes cost?
As for Carbajal, he wants members of the public to know the ordinance underwent significant changes because of their concerns. He also admitted that he drank alcohol before he was 21, and that he attended Del Playa parties when he was a UCSB student. As someone who served in the armed forces before he was of legal drinking age, Carbajal understands the frustration of being considered an adult at age 18, but not being allowed to drink liquor. Ultimately, it comes down to the law. "Underage drinking is illegal," he said.
With Carbajal and Gray sponsoring the ordinance, only one more vote is needed to make it pass. Farr won't indicate how she's leaning, but county insiders say she was pressing for ordinance revisions. Supervisor Janet Wolf is critical that four versions of the ordinance have been reworked within the office of the County Executive Officer, and not in public. But even if Wolf is not friendly to the ordinance, Supervisor Joseph Centeno may cast the third needed vote.