Arts & Entertainment
Los Angeles Philharmonic at the Granada
CAMA Concludes Season with L.A. Philharmonic at the Granada
In 1921, Bela Bart³k said of fellow composer and countryman Zolt¡n Kod¡ly, "He works in concentrated fashion and despises any sensation, false brilliance, and extraneous effect." When Hans Graf took the Granada stage to conduct the L.A. Philharmonic on Saturday night, he embodied that sentiment precisely in the performance of Kod¡ly's enigmatic, yet startlingly direct Concerto for Orchestra (1940), a work in which a variety of solo instruments alternate passages with the orchestra as a whole in a modernist version of the Baroque concerto grosso. Clearly, what Kod¡ly-and Graf-wanted from this work was balance and honesty, a version of individual brilliance and achievement that did not subsume the needs of the group to the ego of a single person. The L.A. Philharmonic responded well to Graf's precise, restrained conducting, balancing the work's formal complexity with its heartfelt melodies with equal measures of clarity and feeling.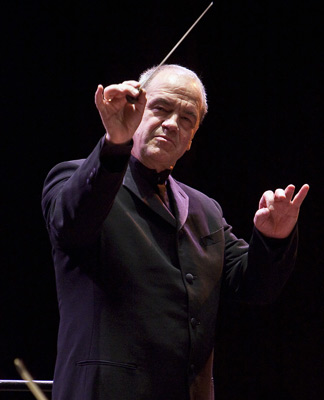 The work that followed, Liszt's Piano Concerto No. 2 in A, addressed some of the same issues from a far more Romantic perspective, revealing some astonishing parallels. Liszt had hidden this concerto, which he sometimes called his "Concerto Symphonique," for years while he revised it, concerned that his well-known skill with the piano would make it a mere showpiece. Instead, it shows a composer determined to create a continuously expanding world of sound, which Graf and soloist Kirill Gerstein conjured up magnificently. Always in control, but never lacking in fire, Gerstein held his own in this musical contest of wills.
After the intermission, Graf and company returned for Dvor¡k's Symphony No. 8 in G, rescuing it from its warhorse status with a highly original and interesting interpretation. No. 8 has all the elements that make Dvor¡k's symphonic works so popular-rich Slavic melodies, ominous bass lines, and thunderous climaxes-but Graf took this performance further than any I have heard through his uncanny restraint. Graf knows that drama comes more from contrast than sheer volume, and that clarity emerges when you acknowledge complexity. Dvor¡k never made more sense, nor had such impact, as he did in this stellar performance. Graf, the music directory of the Houston Symphony and a frequent guest conductor around the world, should be welcome anywhere.