Visual Arts
Lost & Found: Collage and Assemblage at the Elverh,j Museum
Exhibition Makes the Drive to Solvang Well Worth the Trip
Pass the tourist-heavy traffic of downtown Solvang, follow winding streets into a residential neighborhood, and you'll find the Elverh,j Museum of History & Art, one of the country's only museums dedicated to preserving the history of Danish culture in America. Once occupied by Danish painter and sculptor Viggo Brandt-Erichsen and his wife Martha Mott, the modest but well-preserved dwelling incorporates charming examples of Danish architecture and objects (like ornamental wrought ironwork and hand painted panels) with a more contemporary exhibition space. Currently, the museum is exhibiting Lost & Found, a show which features artists from across the Central Coast who specialize in collage and assemblage techniques.
A robust show that includes more than 20 artists, Lost & Found was juried by a panel of three of the region's visual art experts: Rita A. Ferri, Debra McKillup and Frances Puccinelli. It showcases the varying techniques of two art forms in which artists explore reuse, reinvention, and recontextualization. Spurred by vivid imaginations and colored by just a touch of whimsy, these works incorporate such disparate objects as maps, matches, and photographs, as well as a piece of missile fuselage and an artifact from a World War II aircraft's radial engine. Through combinations of objects at once fitting and unconventional, these artists weave miniature, nonlinear narratives.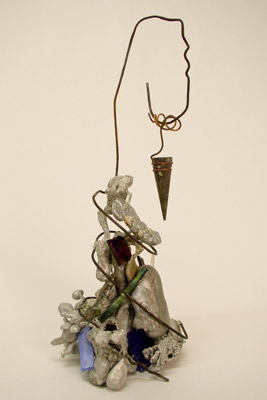 Collage, and its three dimensional sister assemblage, are exercises in restraint and careful editing; if the individual elements of a piece are not linked in a subtle yet revealing way, the resulting work becomes garish and ineffective. A truly successful collage or assemblage artist evokes memories and associations much as a talented storyteller might. An excellent example of this technique is Launa D. Romoff's "Untitled," a collage piece composed of McCall dress patterns and scraps of intimate notes bearing fortune cookie-like sentiments. The simple composition, unified by the consistent use of paper objects, conjures up a nostalgic time when making things by hand was the norm-a perfect complement to the museum's larger collection.
In "Resilience" by 16-year-old Izzy Greer, the artist has reclaimed items from the burnt remains left in her neighborhood after the Tea Fire. A tiny sculpture hugged by a swirling rusted wire, and unrecognizable objects smooth and melted from the fire, evoke the awe-inspiring power of this natural phenomenon to transfer what was once familiar into its barest elements. Greer's piece is a mini Stonehenge, at once a relic of humankind and a pile of rubble.