CATCH AND RELEASE: It seems like spring truly has sprung. Around town, the seasonal switch has taken the form of unreasonably warm weather, new plants aplenty, and even the occasional batch of puppies. And around the nation it's emerging in the form of new music. This week alone, Santa Barbara will play host to a string of album release parties, live previews, and post-record dropping rock-outs by some of the county's and the country's finest. And all we need do is head out and soak it up. Ahh, I love springtime.
This Friday, May 8, anyone and everyone in the know will likely be pouring into Muddy Waters Cafe (508 E. Haley St.) for one of S.B.'s most highly anticipated album release parties of '09. At 8 p.m., the boys of the Martyrs will be unleashing their self-titled full-length to the masses, and I for one can't imagine a better way to spend a Friday night.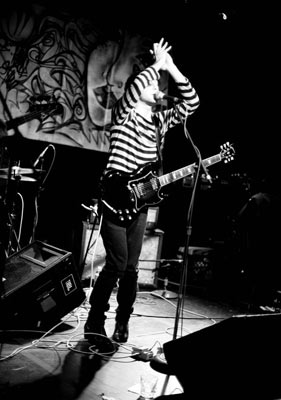 For the unacquainted, this baby-faced three-piece busted onto the scene none too long ago with crunching guitars and yelping vocals. In less than a year, the guys have developed a sound that pays homage to '70s punk influences like the Sex Pistols, but leans a little more toward the modern rock sounds of the White Stripes, Queens of the Stone Age, and The Strokes. And while the instrumentation is all grainy garage-y roughness, lead singer Nic Martyr tends to sound more like Clap Your Hands Say Yeah's Alec Ounsworth than anything close to Johnny Rotten. The result is a genius hybrid of indie innocence and punk rock bravado, solidly backed up by a string of clever hooks and catchy lyrics. CDs will be available at the show, and can also be purchased online via iTunes. Call 966-9328 or visit myspace.com/muddycafesb for details. For more on the Martyrs, visit independent.com/martyrsalbum.
Also peddling new wares this week, the SOhO (1221 State St.) loving ladies of Blame Sally will return to their favorite S.B. venue to offer up Night of 1000 Stars. The all-female fourpiece hails from San Fran, but has cultivated quite the fanbase around town thanks to repeated tour stops downtown and their lush melding of pop progressions and ethereal folk harmonies. The album release show starts at 8:30 p.m. on Thursday, May 14. Rob Laufer opens the night. Call 962-7776 or visit sohosb.com for ticket info.
SNEAKS AND SAMPLINGS: Last October, Marc Bianchi (aka Her Space Holiday) departed from his long-established electro-indie rock shtick with the release of his latest album, XOXO Panda and the New Kid Revival. On XO, Bianchi ditches the bleeps and bloops for an acoustic and some tambourine, in turn creating what is his most approachable and enjoyable album to date. This Friday, May 8, Bianchi will play Velvet Jones (423 State St.) with openers City Light. Call 965-8676 or visit clubmercy.com for show info.
The following night, Los Gatos natives and hands-down hard rockers Dredg will also make a stop over at Velvet toting new tunes. Four years after releasing the critically acclaimed Catch Without Arms, the foursome finally have resurfaced with a follow-up, the soon-to-be-released The Pariah, the Parrot, the Delusion. While the album won't drop until June 9, trust me when I say it's worth the wait. The result of all that hard work is a genius mix of swirling guitars, electronic trip-outs, and lyrical manifestos that call to mind the genius of Sparta or The Mars Volta. The show starts at 8 p.m. Visit ticketweb.com.
Rounding out the weekend, psych folkie Alela Diane will take to Muddy Waters Cafe with Mariee Sioux (myspace.com/marieesioux) for a night of feminine-minded strumming on Sunday, May 10. Diane currently is touring in support of her February release, the whimsical and poignant To Be Still. The show starts at 8:30 p.m. Visit clubmercy.com for details.