Visual Arts
Casa de La Raza Honors California Migrant Workers in Photos
David Bacon's People Under the Trees Now Exhibiting in S.B.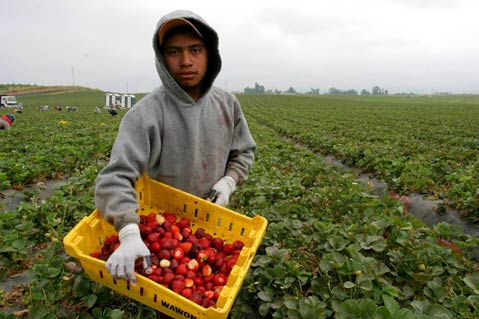 The first thing you notice is their eyes. Their eyes are filled with hardship, pain, and an immeasurable burden, intensely focused on the work-on the oranges or the broccoli or the wood. These are the eyes of the subjects of David Bacon's new series of photographs, Living Under the Trees.
The exhibit, currently on display at La Casa de la Raza, portrays the daily lives of California's migrant workforce. The images depict scenes of Mexican farm workers, who account for over half of California's agricultural laborers, in everyday life. It should come as no surprise then that most of the photographs show people working-a typical migrant worker toils for 14 hours a day-and are starkly realistic, yet full of color.
The photographs are accompanied by short personal narratives, told firsthand by the people in Bacon's photos. Surprisingly, their stories are not filled with frustration and despair, but with hope; which is exactly what La Casa Cultural Events Director David Aguilar sees in these immigrants' eyes. "You may see hopelessness, but I see hope," he explained. "In Mexico, there is no hope; youths fall easily into drugs or narcotics distribution." Aguilar says the people in the fields inspire him to do more for his community. In addition to running cultural and youth programs, Aguilar also is an immigration advocate. He helps immigrants to legally obtain American citizenship and strives to promote worker's rights. "These people are incredible," Aguilar said, looking at a photo of a poor Triqui family. "They don't even keep most of the money they make. They send it home to family still in Mexico."
This is the real message of Living Under the Trees. Through the exhibit Bacon questions the conditions these people live under but does so in a positive manner, in turn allowing viewers to open their eyes in order to see the hope in others'. Living Under the Trees is on display now through Friday, June 12, at La Casa de la Raza (601 E. Montecito St.) Admission is free. Call 965-8581 or visit crla.org for info