News
Hollywood's Getaway Driver Testifies
Saulsbury Tells of 15-Hour Car Ride with Fugitive
The Jesse James Hollywood portrayed in the film Alpha Dog may have seemed like a ruthless thug, but on the third day at the trial of the real Jesse James Hollywood, witness Chas Saulsbury said that in the days following the murder of 15-year-old Nick Markowitz in August 2000, Hollywood seemed remorseful, depressed, and at some points even suicidal. Hollywood had fled from California after the slaying, going to Saulsbury's Colorado home before leaving the country. Nonetheless, the defense spent Wednesday trying to discredit Saulsbury's testimony by portraying him as a weak and dishonest individual.
Hollywood has been charged with murdering and kidnapping Markowitz nine years ago, and faces the death penalty if found guilty. Wednesday's session of the trial began with defense attorney James Blatt apologizing to Saulsbury for asking questions on Tuesday that might have been upsetting or intimidating. After Saulsbury responded that he did indeed feel intimidated, Blatt asked Saulsbury if he cried on Tuesday. Though Saulsbury answered that he didn't cry, Blatt said later during the cross-examination that Saulsbury actually did cry on Tuesday after court. This is one of many disagreements between the witness and Hollywood's attorney throughout an almost three-hour cross-examination.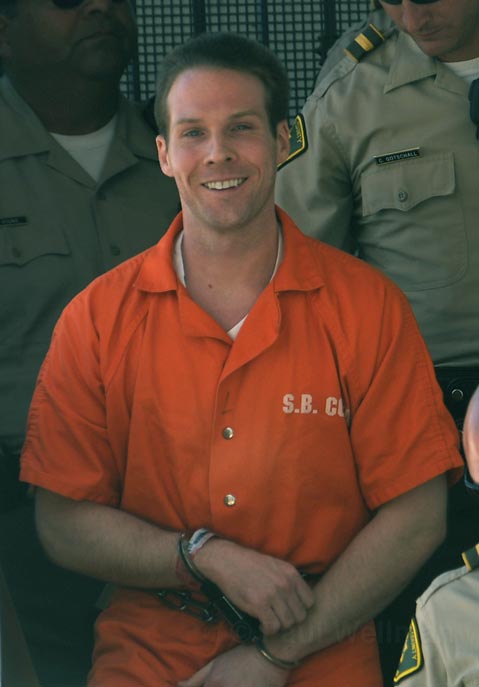 Saulsbury has been the prosecution's most vital witness to testify in the trial so far. In a direct examination on Tuesday by prosecuting attorney Joshua Lynn, Saulsbury said that he had been friends with the defendant from 1994 to 1995, but that the friendship ended when the Hollywood family moved from Colorado to Los Angeles. In August 2000, Saulsbury went to his mother's house in Colorado and found Hollywood waiting at the doorstep.
Saulsbury said he was "shocked" to see Hollywood, as the two hadn't spoken since Hollywood moved to California. Saulsbury said that Hollywood appeared very stressed out, and that he told Saulsbury that he was in trouble. Acting out of a "misguided care for Jesse," Saulsbury agreed to drive Hollywood to Las Vegas and then back to the Los Angeles area. "It was a bad decision," Saulsbury said.
He alleged that, during the approximately 15-hour car ride, Hollywood slowly revealed how he had kidnapped the brother of someone who had been harassing him. According to Saulsbury, Hollywood was initially "not sure" what to do with the victim until he consulted his attorney at the time, Stephen Hogg. In what would become the most contentious part of his testimony, Saulsbury said, "The attorney told Jesse that he was in a lot of trouble anyway and he should 'dig a deeper hole.'" Saulsbury said that Hollywood told Jesse Rugge and Ryan Hoyt, two of Hollywood's friends who were later convicted for their involvement in the murder, what his lawyer had told him, and that Hoyt then volunteered to "do it." After hearing this story, Saulsbury said he thought that Hollywood, Rugge, and Hoyt made a mutual decision to murder Nick Markowitz, contradicting the prosecution's theory that Hollywood was the mastermind behind the killing, but showing that he was still very involved in it.
With only a few minutes left until the evening recess on Tuesday, Blatt began his cross-examination. He first asked Saulsbury, who was paid for speaking with Alpha Dog filmmakers during the creation of the film in 2006, if he was aware that it was illegal to lie to a jury. Blatt then explained that Saulsbury could receive the death penalty if he did so. "I have a packet of eight conversations you had," Blatt then told Saulsbury. "Tomorrow I'm going to review them." The defense attorney then began a siege against Saulsbury's memory of the events that had occurred nine years prior.
After apologizing on Wednesday for his potentially threatening line of questioning, Blatt made word-for-word comparisons between what Saulsbury said in court on Tuesday and what he previously told police officers in interviews over the past nine years. In particular, Blatt wanted to know why Saulsbury used an alleged direct quote from Hogg about "[digging] a deeper hole" during his testimony on Tuesday, versus why he only paraphrased Hogg's words in an interview with police detectives in 2000. He posited that Saulsbury's memory of the nearly decade-old incident would presumably have been sharper then.
Blatt also harped on the fact that Saulsbury was inconsistent in various testimonies about Hollywood's mention of Hogg's suggestion, and whether it occurred at the beginning or more toward the end of the car ride. Because of this confusion, Blatt presumed that the witness was lying and asked multiple times whether or not he was finally "ready to tell the truth." Saulsbury responded that he had been telling the truth all along.
Another issue of conflict between Blatt and Saulsbury was Saulsbury's interpretation that the murder of Nick Markowitz was a group decision. Saulsbury admitted that Hollywood never used the specific words "group decision" during the car ride. This language choice led Blatt to conclude that Saulsbury was trying to help the prosecution in his testimony to avoid his own potential arrest.
Hollywood himself appeared calm in court, but had allegedly experienced "a whole range of emotions" during the car ride being discussed, praying and at one point telling Saulsbury that he didn't want to live anymore. Blatt asked Saulsbury why he didn't mention this remorse during his initial interview with police. "Because you knew that's not what they wanted to hear," Blatt said before receiving a reprimand from Judge Brian Hill for asking an argumentative and speculative question.
During his re-direct questions, prosecutor Joshua Lynn argued that, if Saulsbury was really only looking out for himself and not for Hollywood, then he wouldn't have agreed to drive the defendant – whom Saulsbury knew was wanted for murder – across California. Lynn also posited that it would be impossible for Saulsbury to remember the exact words he used from so many different interviews. He also cited an instance during the cross-examination in which Blatt himself had forgotten a question he had just asked.
Blatt's re-cross-examination will continue Friday at 9 a.m.