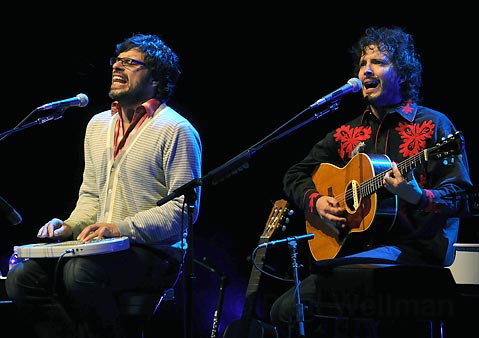 While describing Bret McKenzie and Jemaine Clement's music is close to impossible, there is one word that certainly fits: funny. Kooky, hilarious, random, bizarre, and off-the-wall all work, too. And it was all working for the New Zealand duo, together known as Flight of Conchords, at their sold-out Santa Barbara Bowl show last Friday night.
From their first song, "Too Many Dicks (On the Dance Floor)"-where the two appeared outfitted in silver shirts, robot-inspired cardboard headwear, and disco balls over their privates-to their last, "Bowie," which among other things asks whether David Bowie's nipples get "pointy" in the cold temps of deep space, the two had the crowd bent over in laughter.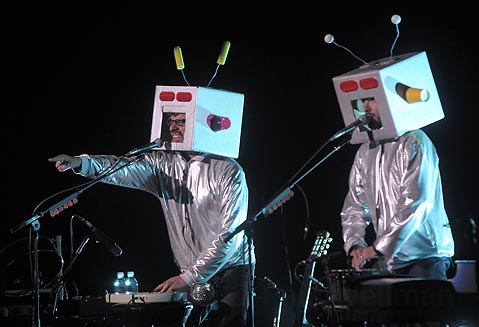 While most bands take time in between songs to say a few words, these two incorporated their downtime into the show, feeding off one another during frequent bouts of humorous banter. "The reason you don't recognize it as talking is because it's being done at a professional level," Clement explained.
The pair also relished in some quality self-deprecation throughout the night. At one point, after a fan passed McKenzie a blanket to ward off the nighttime chill, another threw a flower onstage. While the two were thankful for the gift, the duo reminded the crowd, "Just for future reference, it should be : panties." The exchange aptly followed "Business Time," a unique look at making love. "It's like love concentrate," when they're in the bedroom, they sang. "A little bit goes a long way."
Other song subjects included the tears of a rapper (including lines like, "I'm pouring like the bullets from my AK"), a robotic look into the future (written for the year 2000), an epileptic dog, racist dragons, and girls checking out the duo's "sugar lumps."
Before Clement and McKenzie took the stage, Arj Barker-or "Dave" as he's known on Conchords' hit HBO show-tickled the crowd's funny bone with his stand-up comedy observations on life and society. On the recent pirate attacks, he noted, "Once something is a ride at Disneyland, I don't expect it to be a threat in real life anymore." Touche, fellas