News
Living in Harmony with Wildlife
How to Keep Critters out of Your House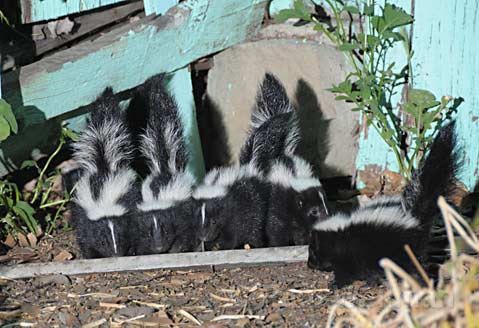 As suburban sprawl continues to displace wild animals, encounters with humans are inevitable. Since the Jesusita Fire in Santa Barbara has forced many wild animals to relocate, clashes between humans and animals will most likely increase. However, many of these situations can be avoided with a little effort and planning.
Julia Parker, from the Santa Barbara Wildlife Care Network, stresses that people need to be compassionate and tolerant of our wild neighbors. She states that it is perfectly normal to see possums, skunks, and raccoons in our backyards and people shouldn't automatically want them gone. Parker says that people think the solution is to live trap these animals and move them elsewhere, but this is not an answer. She believes that if you remove wild animals from your yard, you are basically putting up a "for rent" sign and other animals will eventually move in. She encourages people to be patient. Most wild animals are nomadic and in time they will move on.
Even though people tend to equate springtime with cleaning up houses and yards, the Wildlife Care Network urges people to wait until the fall to paint the outside of homes or to drastically trim trees. Mud nests made by swallows get in the way of painting and people think it is okay to move these nests. However, it is illegal to move a swallow's nest if it is full of eggs or babies. Parker states, "If you need to paint the outside of your home, do so in early February before the nests are made, or wait until the end of summer when the nests are gone."
The same is true when it comes to trimming trees in the spring or summer. The Wildlife Care Network takes in many baby birds each year that are orphaned when their nest is cut from a tree. Parker feels that there is no substitute for being raised by a parent, saying, "It is traumatic for animals to be taken away from their families and reared by humans. They can't be taught by humans the same way they are taught by their parents."
Here are some tips for living in harmony with wildlife:
Food
• The smell of garbage is a huge attraction to wildlife. To prevent wild animals from being attracted to your yard, keep lids secured or store garbage in the garage, especially overnight. For animal-resistant trash containers, visit crittercan.org.
• Don't leave pet food or water bowls outside. Be sure to bring your pets in at night.
• Clean below bird feeders, as seed can attract scavengers such as raccoons and skunks.
• Pick up fruit as soon as it has fallen from the trees.
Lawns and Gardens
• Always check over your lawn before you mow and search for turtles and rabbit nests. The Humane Society of the United States advises people to move turtles gently, but rabbit nests should be left alone (and don't mow near them) so that the mother will return to the nest to feed them
• Keep your lawn grub-free and you will prevent raccoons, skunks, and opossums from tearing up your lawn to feast on them.
• The best way to keep animals out of your garden is to erect a chicken wire fence at least 36″ above the ground and 12″ below the ground. You can also place mesh cages over young plants. Motion-activated noisemakers available from garden centers; owl decoys, and pinwheels can also be effective deterrents.
Trees
• Always look for birds' nests when trimming trees. The Humane Society of the United States suggests that you should retrieve a nest if you accidentally knock it out of a tree and re-nest them in the same location.
Check Access Points
• Check your deck and block or screen off any entry points that allow wildlife access.
• Check your roof eaves, overhangs, vents, and even cracks around windows or pipes that lead into the house for bat entryways. They can squeeze through openings one-half-inch wide. Do not patch holes between May and September or you may trap young bats inside. For bat-related issues, visit batconservation.org
• Once you verify that your chimney is empty, make sure it is capped.
• Remove brush piles from your property and clear debris close to buildings to reveal burrows as well as openings that small animals might use to get inside.
• Small animals can access buildings through holes as little as one-inch wide, so be sure to seal any holes with heavy-weight material (hardware cloth or heavy-gauge screening) or steel wool. Wire mesh can also be used to plug openings in walls and floors.
Local Resources
• Santa Barbara Wildlife Care Network is a nonprofit volunteer group that rescues and rehabilitates injured wild birds and small mammals in Santa Barbara County. For more information, call 966-9005 or visit sbwcn.org.
• For tips on driving cautiously with wildlife in mind, check out a previous Pet Chat column.
Calling All Dog Lovers: Fundraiser for DAWG
On Friday, June 5, Valentino's will be having a fundraiser for DAWG, the no kill shelter in Santa Barbara. Valentino's will be donating 20 percent of all sales from the day to DAWG. Stop by and get a sub, salad, pizza, or soda. They will be open 11 a.m.-8:30 p.m. (They also take phone orders.)
DAWG will be bringing by a few loveable doggies that are available for adoption if you or anyone you know is looking for a four-legged pal.
DAWG is a fabulous nonprofit organization that even offers a free spay/neuter program for local residents' pit bull or pit mixes. In the last seven years, DAWG has helped more than 600 dogs. They not only give free surgical service, they also provide free vaccines as needed, free HomeAgain Microchip, and will perform any small surgery a dog requires that can be done under the same anesthesia such as ear flushes or dental care. The dog owner is then eligible to purchase a $10 one-year county license, which would otherwise cost $20. License purchase is not required. The estimate is one third of all dogs in shelters are pits, so this is truly a great program.
You can reach Valentino's at 967-7338 and can check out their menu at valspizza.com
Adoptable Pet of the Week
Donovan doesn't bite, kick, or scratch. He doesn't push himself forward like some other rabbits. But, if you are looking for a friend who will be true blue (well, he is black, but you know what we mean) and a good companion, Donovan is the rabbit for you. Donovan is house trained and neutered.
B.U.N.S is currently swimming in rabbits at the shelter. Three bunny families were found abandoned by the side of the road during the Jesusita evacuation. If you are considering adopting a bunny, now is the time.
Bunnies Urgently Needing Shelter (B.U.N.S.) is a volunteer organization that cares for abandoned rabbits. B.U.N.S is located at the Santa Barbara County Animal Shelter, 5473 Overpass Rd. B.U.N.S. works to find bunnies permanent homes, and educates the public on caring for a companion rabbit.
For more information, visit bunssb.org.