Arts & Entertainment
Get a Jump Start on Solstice
Annual Celebration Starts Early with Fundraisers, Art Shows, Workshops
Every year, Santa Barbarans (and plenty of out-of-towners) flock to State Street to celebrate the start of summer. With a parade and festival that marvels most Solstice celebrations, the now 35-year-old kickoff provides children, adults, and every reveler in between with something to enjoy. Be it the floats, the dancers, the live music, or the ice cold brews enjoyed under the not-so-brutal sun, Solstice has become synonymous with S.B.-and something to look forward to for almost everyone who enjoys an artsy good time. Still, what many don't know is just how much blood, sweat, and creative tears go into the annual event. So, with a few weeks left before the big shebang, we encourage all you closet Solstice fanatics to catch a glimpse at (and show some love for) the folks who magically manage to make it all happen. Below you'll find a short list of pre-Solstice events, fundraisers, and workshops that are open to the public and offering up some extra fun. After all, who doesn't love a good pre-party?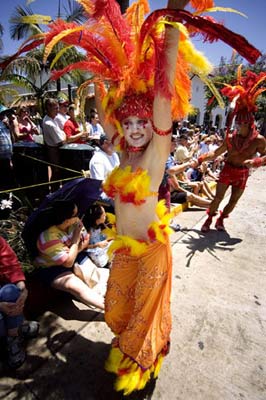 1) Fundraise, Fundraise, Fundraise: On Wednesday, June 17, Pierre LaFond Bistro (516 State St.) will offer up a gourmet dinner, complete with wine pairings, for foodies and Solstice fans alike. For $95, diners will get a four-course meal and the added benefit of knowing they've given some fiscal love to the Solstice staff. Dinner starts at 7 p.m. and interested parties are required to sign up early, as last year's event filled the place to capacity. Call 965-3396 to reserve a table. For those looking to make a more nominal contribution, Aldo's Restaurant (1031 State St.) is giving 10 percent of Tuesday's lunch and dinner earnings to the Solstice crew through June. Call 962-1455 for info.
2) Support the Arts: Throughout the month, Sojourner Cafe (134 E. Canon Perdido St.) will display art of all types from Solstice artists, including masks, flags, photos, and paintings. And this Thursday, June 4, City Hall (735 Anacapa St.) will honor Solstice celebrations gone by with a collection of posters from the festival's early years as part of the Downtown Organization's monthly 1st Thursday event. Refreshments will be served from 5-7 p.m.
3) Get an Inside Look: Whether you want to lend a hand, take a gander, or simply meet some of the fine folks involved in the fest, the Summer Solstice Arts Workshop (631 Garden St.) is the place to be. Now through Friday, June 19, people are encouraged to drop by the headquarters to catch a glimpse of all the float-making action. The workshop is open Wednesday through Friday from 3-8 p.m. and Saturday and Sunday from noon-6 p.m. For more info, visit solsticeparade.com.