Visual Arts
Photos of the American West at Brooks Institute's Gallery 27
Two Faculty Members Exhibit Chasing Time: Pursuing the Shadows of Light and Strangers Along U.S. Highway 395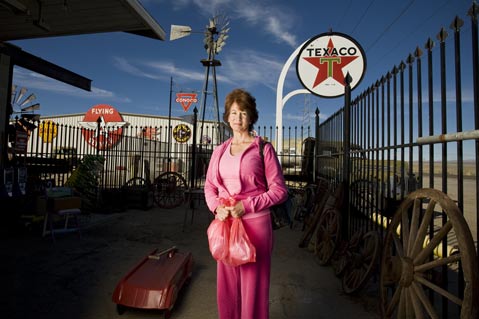 California is known the world over for its dramatic landscapes: the craggy spires and valleys of Yosemite, the giant trees of Sequoia, the stretching sands of Death Valley, and always the dazzling Pacific. And yet it could be argued that the people who inhabit this landscape are just as unique-even, at times, as extreme-as their environment. This month and next, instructors from the Brooks Institute of Photography, Christopher Broughton and Eliot Crowley, host a joint exhibition of photographs that examine both the scenery and the people of this remarkable region.
In Chasing Time: Pursuing the Shadows of Light, Broughton offers a poetic contemplation of the juncture between light, water, and time. The artist's large, monochrome prints convey a beautiful sense of space and solitude, while his mastery of prolonged exposure contributes a quality of timelessness to his images. One of Broughton's most powerful pieces is shot at the Salton Sea. Two rustic piers stretch out across a dry and cracked lakebed, reminding the viewer that here in California water and time are precariously interwoven. In every shot, Broughton brings a subtle freshness to these iconic vistas.
Crowley, too, provides a fresh perspective on a well-worn scenic pathway, though in a very different style. His shots chronicle trips along Highway 395, the stretch of road that hugs the eastern side of the Sierra Nevada. In these works, he presents a captivating study not only of the mountains and valleys of the region, but also of the people he has encountered along the route.
The exhibit is titled Strangers Along U.S. Highway 395, and each of Crowley's sympathetic portraits reputedly was composed within minutes of meeting his subject. There's a full cast of characters represented: skiers in mountain resorts, fishermen on the shores of lakes, truck drivers at gas stations, a government official outside a courthouse, a resting traveler, and even the cart collector at the local Walmart. Most of them occupy a visual stage that offers an enticing hint of the dramatic landscape they populate.
In employing strobe lights to illuminate his subjects, Crowley highlights these characters without isolating them from their surroundings. It is a deft touch, and one that underlines the uniqueness of both person and place. While these two artists represent two very different photographic visions of a region, together they form a rewarding union, both emphasizing the inimitable character of the American west.