Business
A Cycling Computer for Your iPhone
Santa Barbara Startup iTMP Technology Introduces Smartphone Device
A Santa Barbara startup called iTMP Technology, Inc. recently introduced a device and some applications that turn the iPhone into a cycling computer. The company's founder and CEO Michael Williams, who graduated from UCSB with a degree in economics in 1986, recently explained his device to The Independent.
Why put a bike computer in an iPhone? Way back in the 20th century, when heart rate monitors and bike computers were invented, the best ambient computing devices were digital watches. At the time, it made a lot of sense to put fitness computers in watches or bike computers into a similar form. Today, we have the iPhone. It just makes sense to converge these kinds of devices into a smartphone with a big, beautiful touch screen and an awesome user interface. Toggling between screens with small fonts to get LCD metrics is so old school. : Plus, you always have your smartphone with you.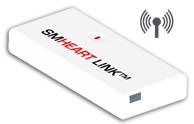 You said "smartphone." Do you plan to develop for other platforms? Right now, it's Apples to oranges in the smartphone world. When the other smartphones catch up and it's Apples to Apples, we'll be there.
Tell me about your invention. SMHEART LINK is a wireless bridge that receives signals from distributed fitness sensors-like a Polar or Garmin heart strap or a Garmin speed and cadence sensor-and sends the data into the iPhone or iPod Touch via Wi-Fi.
Why is it needed? The standard for fitness sensors is ultra-low power wireless because they need to run for years on a coin cell battery. The iPhone doesn't pick up these signals directly so we needed a bridge to enable convergence with the iPhone.
What about the Nike+iPod? They aren't currently compatible with the iPhone, just the iPod. The new 3Gs will come with Nike+iPod support.
Does the Nike system work with bike sensors? No, it's all about the shoe. Even though they sell heart belts, their system does not track heart rate.
So you are all about the bike? We felt that if you are going to do a fitness computer, the most important metric is heart rate. So SMHEART LINK works with most heart rate monitors. : We added cycling next because I really wanted my bike computer in my iPhone. Because we adopted ANT+ technology, down the road we can also work with a growing list of other digital sensors like foot pod, weight scale, and even things like blood pressure.
What is the coolest thing about your bike computer app? I would have to say the "More Cowbell" feature. When I hit a max speed on a ride, the cowbells go off! We can add more fun stuff like that in the future with simple upgrades. That could never happen with an old-school cycling computer.
4•1•1
For more information see smheartlink.com.