Visual Arts
Nights Packs In the Art for June Event
SBMA's Premiere Party Promises World-Famous Installation Art, Musicians
Since its advent back in 2003, the Santa Barbara Museum of Arts' Nights events have been the place to be come summertime. And on Thursday, June 25, the folks at SBMA are providing a couple of new reasons to dress up and head downtown for the bimonthly art party. For one, the usual 8 p.m. curfew is being extended all the way to 9:30 p.m. for the June event. The party will move to the museum's outdoor back patio at the end of the evening for its big finale, complete with an hour-and-a-half-long deejay set from newly crowned KCRW Music Director Jason Bentley. Also along for the ride this month are L.A. installation musicians String Theory and Nights newcomer Bamboo DNA, who will provide interactive structures, lights, dance, and tunes to dazzle all the senses.
Known best for his monolithic contributions to Indio's annual Coachella Valley Music & Arts Festival and Burning Man, Bamboo DNA founder Gerard Minakawa is perhaps the most organic addition to the event in recent years. A longtime Santa Barbara resident, Minakawa has fast become the leader in structural bamboo art. Together with a team of skilled designers, architects, builders, and lighting professionals, Minakawa and his Bamboo DNA crew have erected some of the largest and most grandiose bamboo constructions ever built. Case in point: the 90-plus-foot-tall "Starscraper," built for April 2009's Coachella.
"The festivals need this really huge, unique presence with height," Minakawa explained. "And the people like it a lot because it becomes a rallying place. People say, 'Oh, let's meet at the bamboo tower.' It's the most visible object on the field and it's got a huge fire [torch] on it-you cannot miss it."
While they won't be providing a colossal beacon for Nights-goers (yet), the artists behind Bamboo DNA will most definitely be making their presence known. "I'm really going to try and keep it as simple as possible," said Minakawa about the gig. "I'm going to bring one of the red palapas that I have, and a bunch of the splits, and do an archway entrance on the ramp that comes in from Anapamu, so that people can walk through a passageway as they come in. It's a curb-appeal type of thing." The crew will also set up an interactive display to educate the masses about their projects, and about the versatility and durability of bamboo as a viable and sustainable building tool.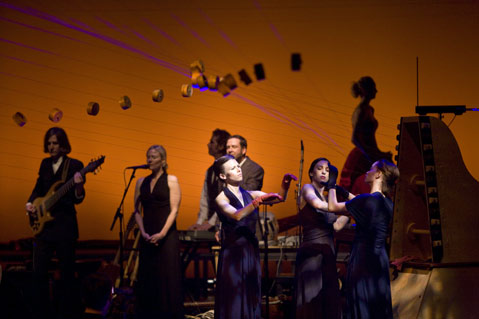 Also on board for the June event are Nights favorites String Theory. Based out of Los Angeles and world renowned for their avant-garde approach to live performance, the company melds notions of live music and dance with an out-there approach to installation artistry. Led by company founder Luke Rothschild, String Theory quite literally play the space they're booked in by stringing lengths of brass wires from wall to wall and floor to ceiling to create long-string instruments (LSIs) out of the venue. Together with more recognizable instrumentation and a small arsenal of modern dancers, the company creates a multi-disciplined, one-of-a-kind show in every space they play.
Rothschild, who's also married to the company's head choreographer, Holly Rothschild, exudes childlike passion when discussing both Nights (which the company has played twice) and his vision. "I describe what we do as a comprehensive sensory experience," he explained. "It's uniting sound and sight and combining artistic mediums to create an environment that hopefully [the audience has] never experienced before."
In addition to their June 25 performance, String Theory will be on hand to perform and lead a hands-on mini workshop for the inaugural Nights Atelier event, which will be held in the museum on Saturday, June 27, at 6 p.m. The intimate event is open to only 200 people, so be sure to snag tickets early.
4•1•1
The Santa Barbara Museum of Art (1130 State St.) will host Nights on Thursday, June 25, from 5:30-9:30 p.m. For tickets and information, call 884-6414 or visit sbmuseart.org/nights.