Visual Arts
Summer Arts Preview: Visual Art
2009 Summer Arts Preview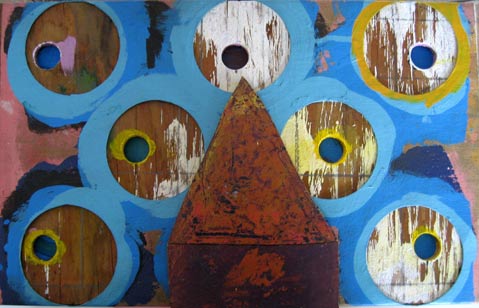 It's a busy summer for the visual arts, with plenty of parties thrown into the mix. Start the season right with a visit to City Hall, where vintage Summer Solsticeposters commemorating the celebration's colorful history are on display now through January 2010. Up the street at Sullivan Goss: An American Gallery, three shows are running concurrently into August. While L.A. Noir explores the darker side of the California dream, the mid-20th century paintings of American Moxiepay tribute to the American people's spirit of resolve, and Santa Barbara-based painter Angela Perko has a solo show of new, vibrant works. Head across Anapamu to the public library where works by Santa Barbara Art Association members are on display in the Faulkner Gallery through Monday, June 29.
Of course, there are a few art happenings you'll want to catch this summer: The Santa Barbara Museum of Art's (SBMA) ever-popular Nights (sbma.net/nights) events are the place to see and be seen, and the Downtown Organization's 1st Thursday art walk (santabarbaradowntown.com) has something for everyone. Most recently, the Wildling Art Museum in Los Olivos is getting in on the action with Wildlings after Dark, a series of after-hours cocktail parties with live music held the last Saturday of June, July, and August.
Sometimes, art goes beyond aesthetics. On Saturday, June 27, take an outing to More Mesa, where regional artists will be painting the bluffs in a benefit to preserve one of S.B.'s treasured open spaces. There will be docent-led tours and live music. For more info, call 683-1878.
Artamo Gallery gets into the spirit of the season with Signs of Summer, a rotating exhibit of new works by abstract artists, including Julia Pinkham and Tamar Kander, Thursday, July 2, through Sunday, August 2. The nearby Contemporary Arts Forum is bustling this summer with talks, performance art events, and, of course, exhibitions. As part of the Forum Lounge series, L.A.-based multimedia artist Marnie Weber performs on Thursday, July 2.
On Saturday, July 4, SBMA unveils Corot in California, a collection of more than a dozen landscape paintings, prints, and drawings by one of France's most influential artists. UCSB's University Art Museum exhibits works by Albrecht D¼rer, David Hockney, and others in Storylines: Narrative Works from the Permanent Collectionfrom Wednesday, July 8, through Sunday, September 13.
From Friday, July 24, through Friday, September 4, The Arts Fund will host an exhibition of work by 2009's Colville Foundation grant recipients. And mark your calendars for Saturday, July 25, when Art From Scrap holds its eighth annual Assemblage, Collage, and Mixed-Media Art Auction, themed Circles.
Everyone knows Santa Barbara City College has the best view in town, and it's being capitalizing on in The View from Here, a group show opening Friday, August 28, at the Atkinson Gallery.