Food & Drink
Saddle Up and Sip It Down
Vino Vaqueros Combines the Santa Ynez Valley's Worlds of Wine and Horses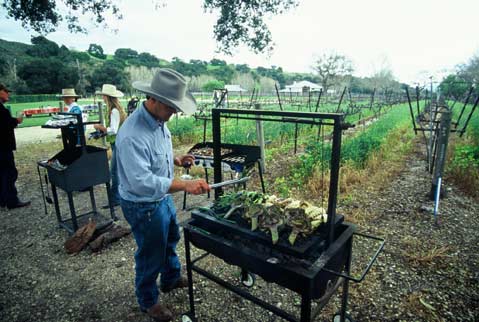 If a spaceship ever touched down in the Santa Ynez Valley, the emerging aliens would quickly take note of two phenomena: the undulating lines of green vines growing everywhere and the large, hairy creatures that feed and frolic-at times with other creatures atop-on the dirt and grass patches found where the vines don't grow. It's a wonder, then, that it's taken so long for us humanoids to make the obviously complementary connection between wine and horses. But now, thanks to the aptly named company Vino Vaqueros, these two worlds are colliding in a most spectacular way, with some seriously gourmet grub thrown in for good measure.
Started in March 2009 by polo player, horse trainer, and former newspaper ad salesman Peter Ganibi, Vino Vaqueros delivers the region's first epicurean-equestrian excursion, offering rides of varying lengths through the bucolic countryside that surrounds the Fess Parker Winery. The easygoing romp traverses over a creek and through the oak woodlands, continues across golden grasslands where birds of prey play, and encircles remote vineyards that produce award-winning wines. The half-day adventure also includes a full six-wine tasting at the winery-featuring chardonnay, viognier, riesling, pinot noir, and syrah-and, depending on the ride you pick, also includes either a packed-in, pond-side picnic lunch or a multicourse, exquisitely barbecued meal on the winery's lawn. During my ride in May, I selected the latter, and feasted fat on expertly grilled artichoke, a romaine wedge with bleu cheese and bacon, Rancho San Julian short-ribs, cast iron fried rock fish, and a Dutch-oven pineapple upside-down cake.
So why did it take so long for someone to launch this brilliant-but-no-brainer combo?
"It's because there are two things that have to fall in place," said Ganibi. "One, a person has to be organized and have an operation that's going to run correctly, and two, there's got to be a guy like Eli Parker who's gonna take a chance on your idea." Parker, son of Fess, has been supportive of Vino Vaqueros from the outset, and his family's seemingly endless property provides the all-inclusive location for a wine-minded ride. "It's hard to have two people see eye-to-eye, so I feel I'm pretty lucky to have that opportunity," said Ganibi.
Blaming it all on luck wouldn't be the full story, though. Ganibi was born to a ranch-managing father in Pasadena, where he grew up around polo ponies and the racetrack. He moved to Santa Barbara in 1998 to attend City College, and got a summer job with the U.S. polo team that summer. He worked his way up from a groom to a professional player, traveling the world to compete and learning how to train horses along the way. But he grew tired of polo after a while, and took a job selling ads for Blue Edge, the outdoor sports magazine that eventually was purchased and then shuttered by the News-Press. Around the time the magazine was being killed, Ganibi hatched the idea for Vino Vaqueros.
"I always wanted to have a business where I worked with the public," said Ganibi. He consulted with his friend Graham Goodfield, who runs Los Padres Outfitters and had a bunch of horses for Ganibi to use. Meanwhile, Ganibi also reentered the polo pony training business at Tom Barrack's Piocho Ranch in Happy Canyon. "I only sold one," he said, "but I got enough money to get me rolling." With that dough, Ganibi launched Vino Vaqueros.
Despite the economy, business remains steady, said Ganibi, who also offers a coastal ride through the Montecito foothills with the help of Goodfield's Los Padres Outfitters. That experience includes a stop at the Summerland Winery and a picnic lunch with views stretching all the way to the Santa Barbara Harbor. And if all that doesn't yet suit your fancy, Ganibi also can call in the help of Ramon Becerra, a "world-renowned horseman" who performs his rope and horse tricks while you eat lunch. Add a dash of classical dressage, and Ganibi said, "It's unreal."
Though I can't vouch for Becerra's rope work, I can say that my Vino Vaqueros experience-which I shared with my birthday-celebrating wife, her sister, and her dad-was one of the more memorable outings I've ever had in years of enjoying the multiple pleasures of the Santa Ynez Valley. And there couldn't be a nicer, more modest guy than Ganibi to reap the rewards of this perfect pairing.
4•1•1
For more information on Vino Vaqueros, see vinovaqueros.com or call 559-4232.