Columns
Welcoming Summer, Isla Vista-Style
Four Easy Ways to Appreciate the Sunny Weather
There's a tendency to focus on the negative when you live in Isla Vista. There are problems with trash, homelessness, graffiti, and bureaucratic mismanagement, among other things. Everyone knows that a lot you can get upset about.
But now it's time to inject a ray of sunshine. I want to describe why summer and I.V. are a perfect combination. Just about anywhere you look, there's something beautiful.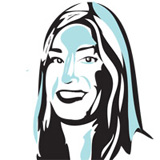 The way I make sure to start summer off right in I.V. – or anywhere else, for that matter – is to have a celebration of some sort. I chose to do my celebrating by dancing down State Street during the Summer Solstice Parade. It's not really summer until you've danced to the drums.
But don't worry if you missed the weekend's festivities. You can still have a summer celebration. All you need is a little music, a little sunshine, and the will to celebrate. If you have a drum and can play it, even better. And any day is a good day to celebrate in I.V. Take a seat in the park, on a front porch, or at the beach, and appreciate the beauty around you.
Next, you should take a ride. You can't go wrong when you take your bike out for a spin in I.V. There's always something to see. I suggest taking the dirt path that runs along the cliffs near Devereaux. It provides a terrific view of the Channel Islands and the beach below. If you bring a picnic lunch, you can relax overlooking the ocean like I saw a group of recent graduates do. They ate their chicken and drank their beer in the best seat in the house. If you want to point your bike in the opposite direction, and take a trip out to UCSB, don't forget to check out Campus Point.
Next you could take a walk in one of the many parks in I.V. What's great about them is that they aren't cookie-cutter pretty. Each one has its own character and theme. Take for example the Window To The Sea, a small park overlooking the cliffs on Del Playa. There are cactus bunched together to form enormous bush-like growths. There's a wooden swing with an ocean view. There are flowers growing in attractive bunches around the park. There are even outdoor showers. Who could ask for more? There are several other parks along Del Playa, some waiting for their makeover. Walter H. Capps Memorial Park offers an incredible view of the ocean, but for now it's just a field of dying grass, full of gopher holes. If all goes as planned, it'll get a snazzy new look in the future. But even the least tended park along Del Playa still has the best view around.
You might want to check out the parks in Isla Vista's downtown area as well. There is Anisq'Oyo' Park, People's Park, Pardall Gardens, and others.
In Anisq'Oyo'Park there's an amphitheater, a creek, a windmill, and a slide. It's not picture perfect like some of the other parks, but no one can say it doesn't have character. It's a great place to sit on a warm evening and listen to some great music. Even a park that has gotten some slack, such as Pardall Gardens, offers a nice place to relax and look at your surroundings.
As many people with children know, Tierra de Fortuna Park & Kid's Trail has some of the niftiest playground equipment around, including a merry go round, and a metal dinosaur. For many parents, this park is known as Dinosaur Park, for obvious reasons. It's one of my favorite parks with its gazebo shaded with vines, and beautiful landscaping. If climbing a dinosaur is not your idea of fun, you can check out Trigo-Pasado Park. It has an 11-inch climbing wall that provides an interesting bouldering experience.
You don't even have to be in a park to feel like you're in someplace special when you're in I.V. The creek near the Camino Corto Open Space is filled with orange and yellow flowers at this time of year. The oak trees lining the sides of the creek are always incredible. Take a look around for bees as well. I've encountered a couple of hives in this area. While thrilled to know that pollination was still happening in my locale, I did give the hives a wide berth, and watched them come and go from a safe distance.
And last, but not least, admire the fruits an I.V. summer provides. In the open spaces you can usually find loads of blackberry bushes. They haven't ripened yet this year, but I'm waiting. Sueno Orchard on Sueno Road has various trees, some of them filled with lemons and apples. I've found fruit trees in other parks as well. I had my first taste of mulberries when a friend of mine befriended the tree's owner. My friend with the eye for fruit has also spotted trees full of apricots, and figs. She will sometimes walks right up to a neighbor's house and ask if she might be able to have some. So far, the residents have been mighty neighborly. There's a plum tree I have my eye on. When the fruit gets ripe, I can't wait to give some a try.
You can also find lots of fruit and vegetables growing in Estero Park and Gardens. While this is for the grower's benefit, not just anyone walking by, you can appreciate the tall corn, and trees full of fruit without touching.
So, here's my verdict. Isla Vista might be a place with issues, but it's also a magical place with hidden beauty. The secret is to know how to find it.