News
Official Michael Jackson Party Announced
No Neverland Plans, But Neighboring Ranch Will Host Fans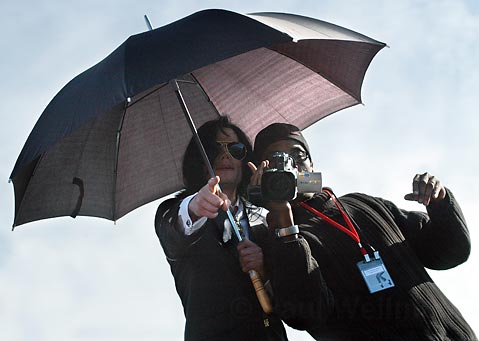 A public relations agency hired by Michael Jackson's family is saying that there will be no viewing of his body – private or public – at Neverland Ranch in the Santa Ynez Valley this Friday, as has been rumored.
"Plans are under way regarding a public memorial for Michael Jackson, and we will announce those plans shortly," said spokesperson Ken Sunshine, who was recently hired by the family, in a written statement.
However, a neighboring ranch will be hosting a celebration for the late pop star. Starting at 5 a.m. on Friday, July 3, and running through Sunday, the Ted Chamberlin Ranch is throwing "The Michael Jackson, Heal the World Memorial Gathering," which they are also billing as "a celebration fit for the king of pop." The ranch is located at 4155 Figueroa Mountain Road, just down and across the country road from the Neverland Ranch. The party, which will feature DJs, large video screens, food, and other forms of entertainment, is being thrown by the Los Olivos-based "destination management company" Releve Unlimited. It will cost $40 per car to get in. Some proceeds will go to the Heal the World Foundation.
"The thousand acre parcel of land adjacent to Neverland Ranch, known as the Ted Chamberlin Ranch or 'Rancho Los Potreros,' will become a place of celebration with ample parking, entertainment, music, food and beverage, restroom facilities and services to support this instant global village," explained a Releve press release being passed out near Neverland on Wednesday. "Large format video screens playing Michael's videos from his entire career along with world class sound systems thumping out his hits with plenty of dance floors and services to experience everything Michael! In conjunction with the California Highway Patrol, Santa Barbara County Sheriff, Santa Barbara County Fire, and other local law enforcement and emergency services, Releve Unlimited will create an environment that is safe for the community and for the fans of Michael Jackson to celebrate a send off from his beloved country home."
So while the public Neverland funeral Jackson – and the rumored motorcade from Los Angeles – appear to no longer be in the works, there will still be plenty of people coming to the Santa Ynez Valley. According to Sgt. Eric Raney of the Santa Barbara County Sheriff's Department, the authorities are still considering closure of Figueroa Mountain Road, which dwindles to a one-lane road a mile or so past the Neverland entrance. The already high number of lookie-loos, said Raney, is forcing both his department and the California Highway Patrol to consider closure of the road. No word on how that will affect the Chamberlin Ranch's fiesta.
The County of Santa Barbara has already had at least five emergency meetings to discuss contingency plans in the event that the Jackson family did decide to come to Neverland. In addition to discussing road closures, the county has also installed no parking signs a mile below and above the entrance to Neverland, and have had public works crews chop the roadside grasses, in hopes of preventing wildfires that could be sparked by the hot engines of cars parked beside the road.
According to an Independent correspondent who checked out the Neverland Ranch today, the media outnumbers other visitors by three-to-one.