Theater
RENT at SBHS Theater
Young Actors Bring New York Musical to Santa Barbara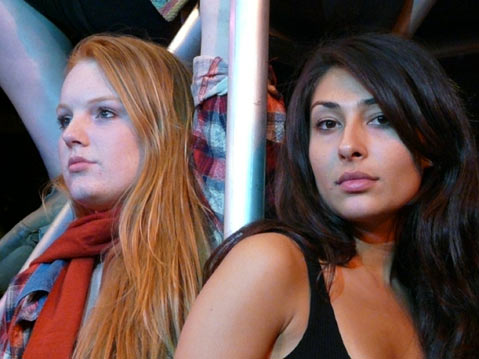 In the early 1980s there was a saying that went around New York describing Alphabet City, the drug-ridden neighborhood on the far eastern edge of Greenwich Village. "A you're All right," people said, referring to the westernmost of the alphabet streets, Avenue A. "B is Bad. C-you're Crazy. And D? You're Dead." Gentrification has long since rendered this charming little ditty a footnote to history, but the bad old Bohemian days of Alphabet City live on in Jonathan Larson's RENT, the hugely successful rock musical that played on Broadway for more than 5,000 performances and won every major theater award, including the Tony and the Pulitzer. Tonight, tomorrow, and Sunday afternoon, a group of outstanding young actors between 15 and 20 years old, all graduates of the Stage Left theater program, will put on RENT for the first time ever in Santa Barbara. Directed by Cheri Steinkellner and produced by Shana Lynch Arthurs and Steven Lovelace, this promises to be one of the summer theater season's high points.
After attending a rehearsal and speaking with Steinkellner and choreographer Jessica Hambright, I was convinced that this RENT would be the real deal. As many musical theater buffs and followers of high school drama will likely already know, the play has only recently been made available to younger actors in a bowdlerized form, the so-called "School Version." Although Steinkellner and her cast are not operating under the auspices of a school drama department for this production, they are very aware of the potential for controversy and misunderstanding, especially among parents and educators. Earlier this year, a high school theater teacher in Corona del Mar who felt that RENT would aid in combating homophobia on the campus of his Orange County school was stymied by a reluctant principal and ended up with You're a Good Man, Charlie Brown instead of RENT.
That won't happen here. Steinkellner, whose credits include (with her husband, Bill) the book for the recently premiered stage version of Sister Act and a number of television programs including several seasons of "Cheers," will not let it. "This is the musical of their generation," she told me. "For mine it was A Chorus Line, but for this group of kids it is RENT. They have known all the songs for years and some of them have been waiting for the chance to do it for a long time." Actors with major roles in the production include Georgia Zeavin, Whitney Crowder, Christina Li, William Schneiderman, Parker Wright, Kameron Tarlow, and Spencer Klavan. For those who have been living on another planet, the show adapts the plot of Puccini's La Bohme to 1980s New York, only these Bohemians have AIDS rather than tuberculosis to deal with, and many of them are gay. Larson's music is wonderful, and the duet between Angel and Tom on "I'll Cover You" is simply not to be missed. With this talented cast and Steinkellner's experienced direction, the Stage Left RENT is sure to shine, and the show's message, which is to embrace the preciousness of every living day, will come through loud and clear.
4•1•1
RENT will be performed at the Santa Barbara High School Theater on Thursday and Friday, July 2 and 3, at 7 p.m. and on Sunday, July 5, at 2 p.m. For more information, contact Dave Arthurs at 965-0880 or email stageleft@cox.net.