Positively State Street
Portland Folksters, Hell's July Lineup Mean a Busy Week in Concerts
Blitzen Trapper, Justin Vernon, and Alejandro Escovedo Stop in S.B.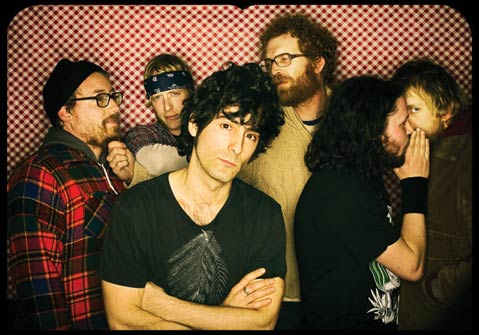 THIS TRAPPER'S A KEEPER: Whether it's luck, fate, or simple coincidence that's brought Portland's Blitzen Trapper to S.B. so often this year, we're not complaining. This Saturday, the folk rock six-piece will return to town for round three and take on Velvet Jones (423 State St.) with fellow P-Town dwellers Loch Lomond.
The show comes on the heels of Blitzen's April stint at UCSB with indie darlings Fleet Foxes, and the completion of a soon-to-be-released EP, titled Black River Killer.
"Well, they're tracks that we've sold at shows as a tour EP," explained lead singer Eric Earley of the disc. "It's never been available in stores or online or anything. : They're all outtakes and extra songs from Furr. I recorded so many songs for that record, and you can't put out a record that has more than 13 songs usually, so there are a lot of tracks that we just didn't get on there that we're happy to have out now."
Though the seven-track EP may not pull all that heavily from its dark and murderous title track, Earley promises that the collection is a solid one. And if you're in the market for more "Black River Killer" tales, be sure to keep an eye out for the band's new music video for the song.
"It's like a miniature movie, basically," Earley explained of the vid. "The guys that shot it for us, they were able to do pretty much everything that me and [drummer] Brian [Adrian Koch] had sort of imagined. It's all actors and we're in it very minimally. You see us for a second playing the song, then it goes into this miniature movie that kind of goes along with the story of the song. It's pretty great."
Blitzen Trapper, Loch Lomond, and Ventura's own Tall Tales and the Silver Lining play Velvet Jones this Saturday, July 11, at 9 p.m. Call 965-8676 or visit clubmercy.com for tickets.
OPEN-AND-SHUT CASE: Ask any regular concertgoer-it's a rare treat to catch an opening act that's as good as the headliner, which is why this week I'm especially encouraging fans to head out early. On Friday night, British rockers Duke Spirit will infuse Incubus's Santa Barbara Bowl show with their infectious blend of rock 'n' roll bravado and rollicking guitar licks. On Tuesday, folk genius Justin Vernon will make his leap into the spotlight, opening up for the Indigo Girls at the Granada Theatre. And next Friday, Cursive's Tim Kasher will play second fiddle to the ladies of Azure Ray at Velvet Jones. In other words: Plan wisely, ticket holders, or you might just miss out on the pre-party of the season.
HIGHWAY TO HELL: And speaking of split bills, there's no better place to get more for your money than this weekend's triple threat of a show at the Lobero (33 E. Canon Perdido St.). This Saturday, July 11, Sings Like Hell welcomes Alejandro Escovedo, Chuck Prophet, and David Pulkingham to the stage for a very special night of music. While pages of praise can be written about each of these singer/songwriters, it's Escovedo's blues-tinged instrumentation and Springsteen-esque vocals that shine brightest. It's no surprise, then, that Escovedo and his 2008 masterpiece, Real Animal, recently were nominated for two Americana Music Awards. For tickets and info, call 963-9761 or visit singslikehell.com.
UPCOMING DATES: In case all that isn't enough, this week's barely manageable music list continues with plenty more can't-miss shows, including actress, singer, and MJ's nearest and dearest, Liza Minnelli at the Chumash Casino (3400 E. Hwy. 246) on Thursday, July 16, at 8 p.m. Call (800) 5785-3737 or visit chumashcasino.com for ticket info. On Friday, July 10, at 7 p.m., Emmy Award-winning composer Chris Spheeris will play a special show at Roblar Winery (3010 Roblar Ave., Santa Ynez) as part of a fundraiser and auction for the Santa Ynez Valley Humane Society. Call 686-2603 or visit roblarwinery.com for event details.